Marauding quid-a-day nosh hack menaces teepee hippie villages
Lentil-busting operation, as fellow posse members resist cake/canteen temptation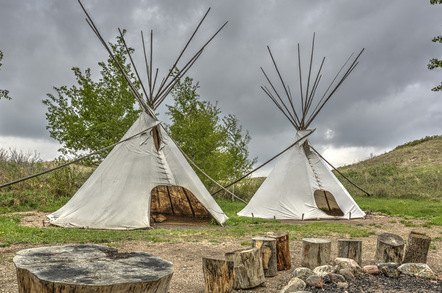 It's day two of the El Reg Quid-a-Day Nosh Posse's Live Below the Line challenge, so let's see how our intrepid members are getting along on just £1 per day for food.
First up, we haven't had a chance yet to consider Chris Winpenny's complete cornucopious stockpile, some of which we've already seen...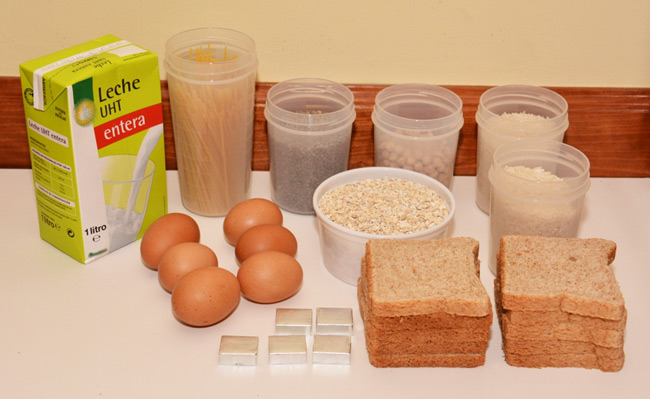 Chris's initial stash last week
...although following a swift hike to the market over the weekend, we can now enjoy more goodness in the form of a vegetative still life: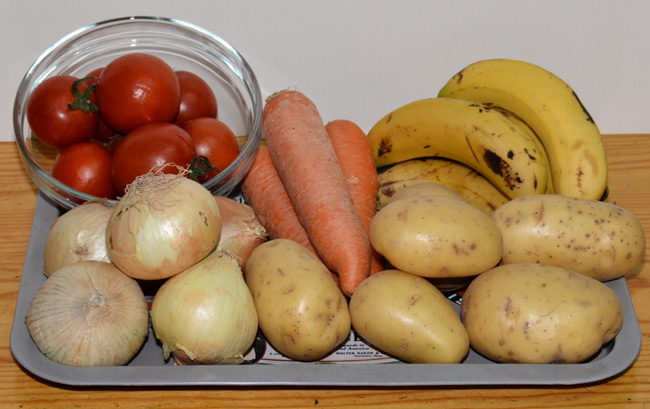 Still life with carrots. A Chris Winpenny original ©2014
Chris's final spend breaks down as follows:
Stock Cubes - 5 - €0.21
Milk - 1L - €0.57
Lentils - 500g - €0.54
Rice - 500g - €0.34
Spaghetti - 250g - €0.18
Eggs - 6 - €0.69
Rolled Oats - 200g - €0.20
Oil - 150ml - €0.30
Bread - 10 slices - €0.30
Tea - 25 bags - €0.46
Spices - 20 tsp - €0.20
Bananas - 700g - €0.35
Potatoes - 1150g - €0.58
Carrots - 500g - €0.25
Onions - 790g - €0.40
Tomatoes - 640g - €0.32
Total - €5.89
Chris's original plan was to have 250g of chickpeas in there, but decided cooking them was "too much faffing about", so he's ditched them in favour of extra lentils.
Describing his shopping foray as "extremely worthwhile", he nonetheless admitted: "Only problem is I've now got over a kilo of surplus bananas which might not last a week, I think they'll save better as celebratory muffins."
I'm sure readers will agree that while the concept of the celebratory banana muffin is not unpleasing, it doesn't have the same ring as "celebratory full English breakfast with extra black pudding", which is where I'm heading on Saturday morning.
We've still got a way to go before that delicious moment, and Chris appears to have his cunning survival plan well thought out. Here's the break-down:
Breakfast
"Will be the same every day, I usually have porridge and a yoghurt but as yoghurt has now become a luxury item I've upped the amount of oats to 40g and added a banana.
"I like a good stodgy porridge so have used 100ml of milk and the same amount of water, microwaved for three to four minutes and left to thicken. Finished off with a cup of tea."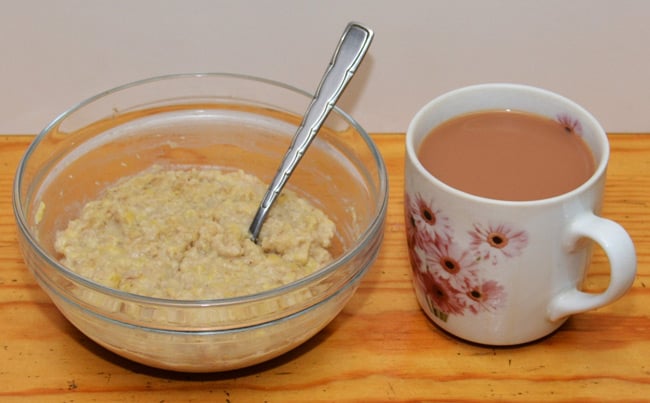 Proper stodge, plus tea
Lunch
"Lentils will stretch to two days, Monday and Wednesday. Done with a large carrot, a couple of onions, a stockcube, oil and spices. Simple and filling, easy to take to the canteen and warm up.
"Spaghetti with tomato sauce will be on Tuesday, again easy for work. Huevos a la Cubana, plenty of rice, a poached egg and tomato sauce for Thursday and Friday."
Dinner
"Evenings will be a hearty potato and carrot soup concoction, dull but given the short notice will be more than adequate.
"Supper, poached egg on toast for four days and toast and grated tomato for another."
Throw "copious quantities of tea" into the mix, and it appears Chris has got a handle on the challenge.
Sponsored: Detecting cyber attacks as a small to medium business