Hot summer of football to stir Samsung's profits after slow Q1
Growth plans include more sales of security product 'Knox' to business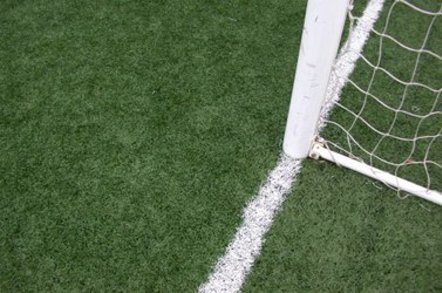 Samsung Electronics, the mobes, slabs, screens, domestic appliances and chips arm of the industrial giant, has posted results showing a decline in operating product.
The company hauled 53.68 trillion Korean won (about $US50 billion) through the doors between January 1 and March 30 2014, 8.49 trillion won (about $US7 billion) of which was operating profit. That's up on 2013's corresponding quarter, which is expected, and down on the company's previous quarter, which is also expected because the early months of the year are slow times for gadget sales.
The company thinks things will soon get better, as Northern Hemisphere residents start to splash some cash on air conditioners and new tellies, both of which are expected to make it easier to enjoy the football World Cup.
There are some interesting nuggets inside the canned results statement and Korean language (PDF) slideware, such as:
A pledge that the company will make advancements in its ecosystem for device connectivity;
Foreshadowed "expansion of the next generation V-NAND market by honing in on not only the enterprise business but also the consumer-focused SSD market";
A move to 14-nanometer process technology for Samsung's semiconductor business;
The intention to "actively respond to rapid demand growth in China's LTE market by leveraging … LTE technology leadership, while further strengthening its product line-up across various price points";
A promise Samsung will "strengthen its B2B business footprint through Knox";
A prediction that "expansion of the UHD TV market should lead to improved profitability";
Revelation that the company has "solid tablet sales momentum by shipping nearly 13 million units during the slowest quarter".
The company is clearly, and predictably, banking on the recently-released Galaxy S5 to give its mobile division a boost in 2014's second quarter. Growth in that division will be welcome because it delivered a one per cent downwards profit wobble in the first quarter.
Not mentioned in the results documents is how users respond to the software Samsung packs into its phones and phondleslabs. Perhaps the reason for the absence is that the company is not having much success enticing owners of its devices to use its online services. Analyst outfit Strategy Analytics writes that Google's services and apps occupy much, much more of owners' time than Samsung's own.
The graphs below spell out the situation in … ummm .. graphical detail.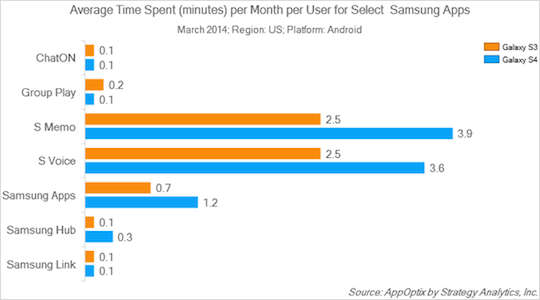 Samsung phone owners spend scant minutes using Samsung apps ...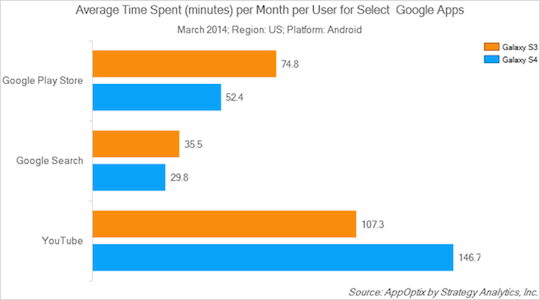 ... but spend lots and lots of time with Google apps and services
This situation leaves Samsung as a cash cow for Google, a situation it cannot enjoy. Indeed, the Korean company's flirtation with the Tizen operating system has long been thought to be a way to free itself from Android and thereby give itself a better chance of picking up the cash that comes with app sales and subscriptions for other services.
Samsung's software has often been criticised as rather mediocre, so even if it did make the jump to Tizen the company would need to lift its game or risk further contraction in its mobile business. Would it dare take that risk with that division already wobbling a little? Can it afford not to if it is leaving app store cream for Google to slurp? ®
Sponsored: Detecting cyber attacks as a small to medium business