A real pot-boiler kicks off Reg man's quid-a-day nosh challenge
Quest for fire(wood), flaming steel and fried egg sarnies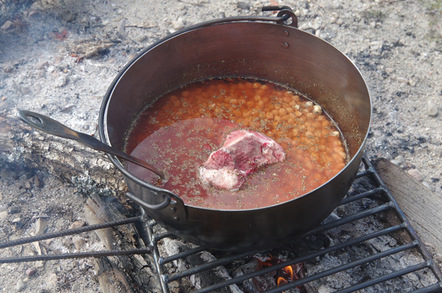 Pics It's day one of the El Reg Quid-A-Day Nosh Posse's attempt to survive for five days on a fiver for food in support of Malaria No More UK.
I have no doubt our elite team is rising magnificently to the challenge, having prepared their cunning survival plans well in advance. While I await news of how it's going, here's some of my own stockpile for the week: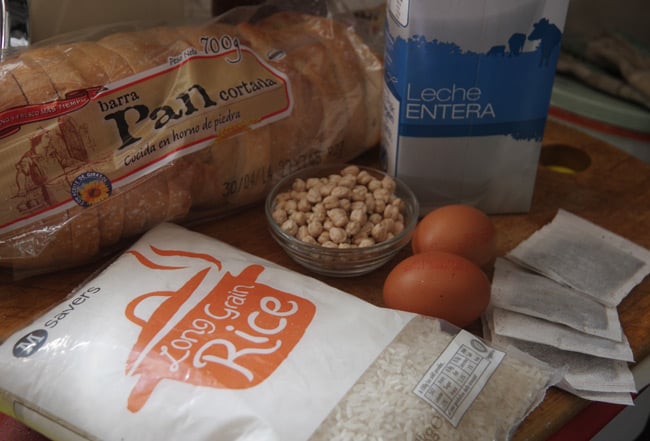 All you can eat for a fiver
I'm basically going for the same diet as last year, which breaks down as follows:
1L Milk - €0.62
Bread - €1.15
12 Eggs €1.20
2kg Rice - €0.97
1kg Chick peas - €1.49
30 teabags - €0.30
One pork bone - Free from the butcher
Total - €5.73
I availed myself of a recent jaunt to Blighty with the Vulture 2 spaceplane to get some seriously budget rice, which means I have 2kg, as opposed to last year's 1kg, but apart from that it's business as usual. The remaining €0.27 serves for a few pinches of salt, a smidge of olive oil and a couple of teaspoons of herbs.
So, it's two egg sarnies for breakfast, and chickpea stew with rice for lunch and dinner.
However, if you think I'm not bringing anything new to the table, think again. In 2013, we had a few commentards moaning about not factoring cooking fuel costs into the budget.
In response, I cordially invite them to get their laughing gear round this: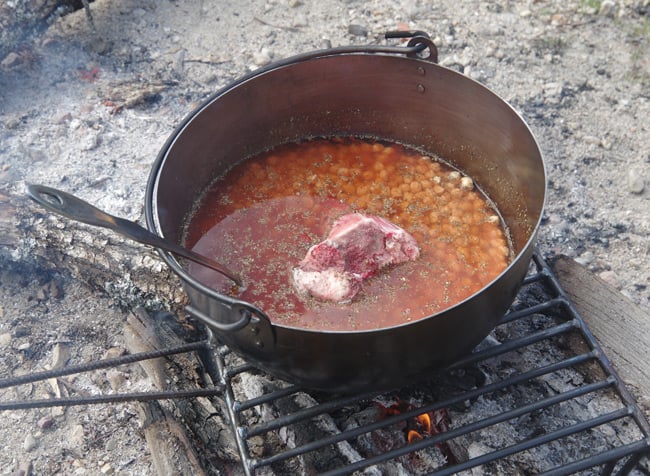 A real pot-boiler
Yup, I've gone seriously old school, cooking up a stew on scrap and windfall wood. I initially thought about using a wheelbarrow to collect fallen branches from nearby oaks, but then realised I'd have to factor into my budget a percentage of the barrow's purchase price, using a complex cost/time/distance travelled algorithm.
Accordingly, I carried the stuff myself, while fretting about whether the microscopic loss of boot sole leather should also be included.
I'll leave you lot to debate if my new steel cooking pot – purchased specifically for the job – might also come under budgetary scrutiny: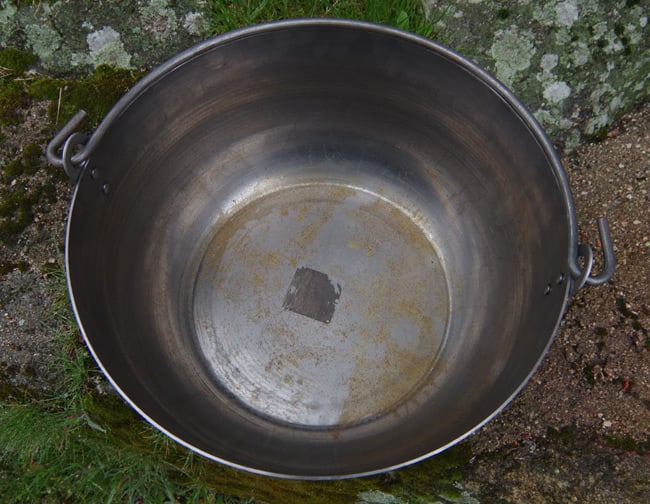 Hewn from the living steel
Having secured the vessel last Friday, I then remembered something about "seasoning" steel cookware, in which you heat a thin layer of oil in the pan to smoking point, to close the steel's pores and prevent rusting.
Cue a Sunday afternoon pan bake using olive oil: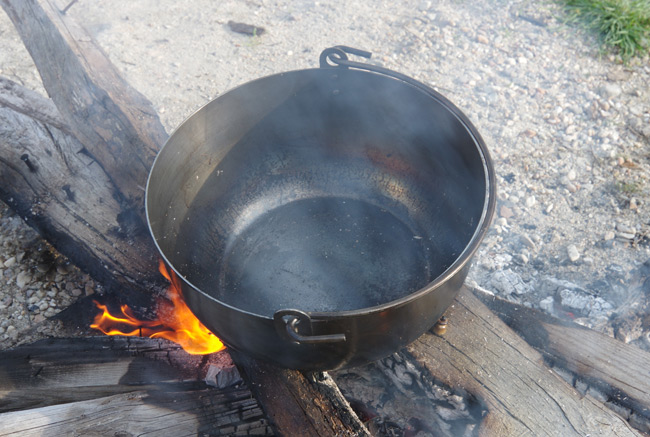 Old-school pan seasoning operation
The process appears to have worked, since this morning's breakfast eggs sizzled nicely in the pan without sticking.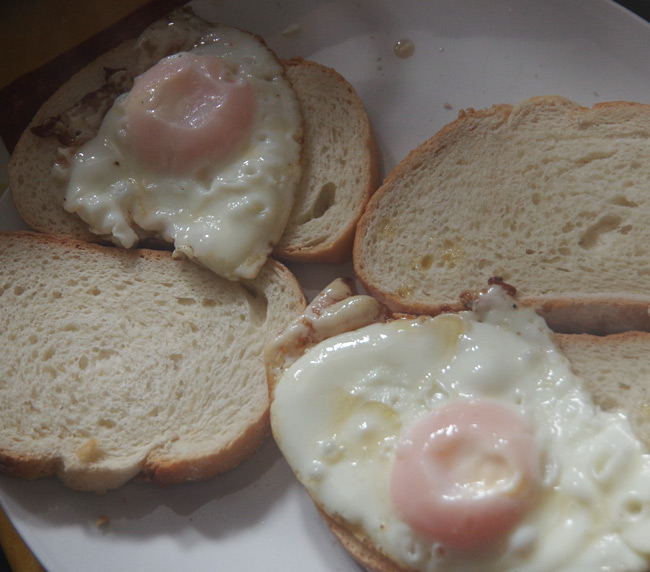 Breakfast: Full English without the bacon, sausage, black pudding, beans, mushrooms and brown sauce
I'll be honest and say I can't realistically cook everything on wood for the entire week, The principal problem is not time or lack of willingness, it's my bloody mutt pack.
I can't leave anything edible unattended for even ten seconds, because the sods will attempt to have it away, boiling or not. So, if you'll excuse me, I must get back to the stew before it does a four-legged disappearing act.
While I'm beating off dogs with a stick, why not show your support by donating to the El Reg Quid-A-Day Nosh Posse cause right here? ®
Sponsored: Detecting cyber attacks as a small to medium business