Elon Musk wants SpaceX to launch spy sats – and will sue US gov to do so
Rocket biz longs to elbow Lockheed Martin and Boeing out of the way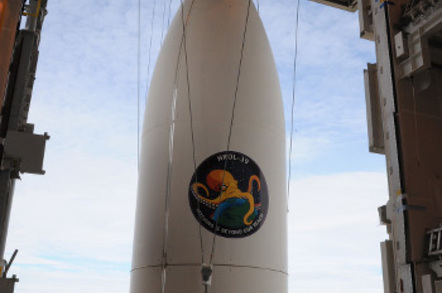 SpaceX has vowed to sue the US government for the right to compete for contracts to launch spy satellites – a market worth up to $70bn that's monopolised by Lockheed Martin and Boeing.
The California-headquartered upstart, founded by internet tycoon Elon Musk, has only just sent up supplies to the International Space Station.
SpaceX has eyed up the billion-dollar black ops market before: it set up offices in Chantilly, Virginia where the National Reconnaissance Office (NRO) and the National Reconnaissance Operations Centre are together located. The NRO is a joint operation of the US military and intelligence services, and frequently launches payloads of surveillance satellites about which few details are released to the public.
Musk's firm said over the weekend that it will file a legal challenge today at the US Court of Federal Claims against the US Air Force's latest Evolved Expendable Launch Vehicle (EELV) contract with United Launch Alliance, a joint venture of Boeing and Lockheed Martin, which was signed last year.
The deal guarantees the purchase of 36 rocket cores from ULA for use in "national security launches", and SpaceX argues that it was agreed without any competition from other providers.
"This exclusive deal unnecessarily costs US taxpayers billions of dollars and defers meaningful free competition for years to come," Musk said in a statement.
"We are simply asking that SpaceX and any other qualified domestic launch providers be allowed to compete in the EELV program for any and all missions that they could launch."
According to the space rocket firm, each ULA launch costs about $400m, four times as much as it would cost if the secret spy sats were blasted off using SpaceX hardware. The startup said the EELV contract is the fourth largest procurement programme in the entire US Department of Defence budget and that officials had already announced that it had exceeded its estimated cost per unit by 58.4 per cent.
Musk also appealed to national pride and current animosity towards Russia after its actions in Ukraine by pointing out that the ULA's launch vehicle, the Atlas V, uses Russian engines from a Russian company.
"In light of international events, this seems like the wrong time to send hundreds of millions of dollars to the Kremlin," he said. "Yet, this is what the Air Force's arrangement with ULA does, despite the fact that there are domestic alternatives available that do not rely on components from countries that pose a national security risk."
SpaceX's move to open up the EELV procurement programme also has backing from Senator John McCain, who sent two letters, one to the Air Force and the Department of Defence, asking for investigation of the lack of competition in the $70bn programme.
"By some estimates, competition in EELV could save taxpayers up to $1 billion annually and help ensure that this program can be counted on for delivering needed military space capability at the most reasonable cost," he wrote to DoD inspector general Jon Rymer.
"With that in mind, the Air Force's apparent deviation from the Office of the Secretary of Defense's direction that competition in this program be 'aggressively' pursued and from internal DoD policies and instructions on competition is profoundly troubling." ®
Sponsored: Quit your addiction to storage