Pure Storage opens wide, VCs shovel in yet MORE millions of $$$
Nearly half a billion dollars of funding to date. But no IPO?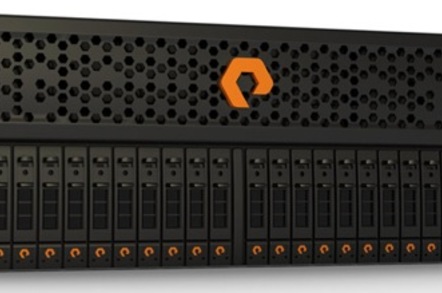 All-flash array startup Pure Storage has just trousered another $225m of funding, less than a year after enjoying a $150m E-round. Why on earth does it need more cash now?
The cash, according to a Pure press release, will "support the continued acceleration of its market trajectory and international business expansion through increased investments in engineering, sales, marketing and channel partner enablement, to meet insatiable global demand for the Pure Storage FlashArray."
New and existing investors stumped up the money in this F-round. Pure's funding history looks like this:
2009 - $6.6m from angel investors
Aug 2010 - $18.4m B-round
Aug 2011 - $30m C-round
Aug 2012 - $40m - D-round
Aug 2013 - $150m E-round
April 2014 - $225m F-round
Total funding is now $470m, with the company valued at more than $3bn. Are we seeing a bubble building up here? Will other all-flash array startups receive uplifts in their valuation or is this purely (sic) a Pure Storage phenomenon?
The company is not profitable and investors are gambling that it will survive the competition from mainstream suppliers such as Cisco, Dell, EMC, HDS, HP, IBM and NetApp and will not crash and burn even if other all-flash array startups do.
Pure Storage has been growing strongly, meaning revenue has been coming in. Yet, unlike Nimble Storage which IPO'd while unprofitable, Pure has decided not to have an IPO, for now, and is raising more cash from VCs instead.
Comment
We here at the Reg storage desk think that Pure has decided not to have an IPO until it has shown it can meet and beat mainstream storage array supplier competition. We think it wants particularly to compete successfully against EMC's XtremIO product, the Violin Memory 6000 arrays, Solidfire and NetApp's EF540/500 and coming FlashRay.
If it can do that and ride a growing flash array wave then a successful IPO at, say, a $3bn to $5bn valuation could be possible. That'd be highly profitable for the VCs who are now betting big on the outcome. ®