EMC feels burn of declining demand for enterprise storage
Sales edge up but profits collapse by a third for fiscal Q1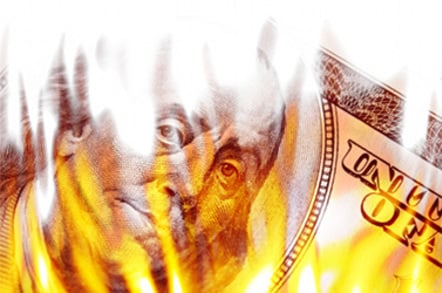 EMC's share price dipped today after it revealed that fiscal Q1 profits crashed by close to a third on the back of rising operational costs and falling sales of enterprise kit.
The world's largest maker of storage equipment reported sales of $5.48bn for the three months ended 31 March, with products down 3.3 per cent to $3.08bn but services up 8.6 per cent to $2.47bn.
Overheads went up by 4.5 per cent to $4.834bn fuelled by southward moves in selling, general and admin, R&D and the cost of services. This resulted in profits falling 32 per cent on a year ago to $392m.
David Goulden, CFO at EMC, said: "While planned business practice changes had a negative impact on year-over-year revenues and EPS growth in the quarter, we are confident we are on the right track with our Federation model and technologies."
The storage maker lowered EPS estimates for the year to $1.90 from the previous forecasts of $1.95 to $1.94. The share price had slipped by around 3.5 per cent at the time of writing.
Divisional highlights included a three per cent revenue decline to $4.08bn in the Information Infrastructure biz, caused by weaker demand for high-end kit, and falling sales at RSA – down to $233m from $244m. Revenue at the Information Intelligence Group was down by $1m to $154m.
The Emerging Storage business including Isilon, Atmos, VPLEX, ViPR and the XtremeIO families was up up 81 per cent. Pivotal was up 41 per cent year-on-year to $49m.
The VMware Virtual Infrastructure biz within EMC contributed $1.35bn, versus $1.16bn a year ago.
Sales for the year are estimated to cross the line at $24.58bn and operating income is forecast to come in at 16.5 per cent to 17 per cent of turnover for the whole of fiscal '14.
Updated
EMC has been in touch to say the reason why the outlook is lower than previously forecast is due to AirWatch acquisition that closed in February, "effectively putting the outlook at $1.90", a PR hand said.
In a conference call with analysts, CFO Goulden said:
"The accelerated transition in IT means that our higher growth markets are poised to grow faster than we expected a year ago and the growth of our more mature markets will be lower than we expected a year ago.
"With this in mind, we expect revenue of $24.5 billion, up six per cent year-on-year, operating margins roughly flat with last year, non-GAAP EPS of $1.95, up eight per cent year-on-year, and free cash flow well in excess of the $5.5 billion we generated in 2013."
"As is our custom, the exact free cash flow target will be set at our upcoming board meeting. Note that these expectations do not include AirWatch, which would add approximately $75 million in revenue and cost approximately $0.05 for non-GAAP EPS for 2014." ®