US Supreme Court supremo rakes Aereo lawman in oral arguments
Antenna-array content streamers: 'Ruling against us could dissipate the cloud'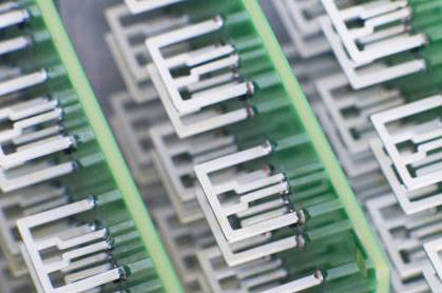 US Supreme Court Chief Justice John Roberts was less than subtle during oral arguments on Tuesday in the case of American Broadcasting Companies, Inc. v. Aereo, Inc., in which the broadcasting giant is seeking to shut down the spunky startup that charges its customers a monthly fee for internet access to streaming broadcast video slurped out of the aether by its one-per-customer array of tiny antennae.
"Your technological model is based solely on circumventing legal prohibitions that you don't want to comply with," Roberts told Aereo attorney David Frederick, reports Deadline Hollywood. "There's no reason for you to have 10,000 dime-sized antennas except to get around the Copyright Act."
Frederick, as one would assume, sees things differently. "From our perspective," he said in an emailed statement after the hearing, "the issue in the case was whether consumers who have always had a right to have an antenna and a DVR in their home and make copies of local over-the-air broadcast television, if that right should be infringed at all simply by moving the antenna and DVR to the cloud."
Frederick argues that the Court's decision, expected to be issued in late June, could have "significant consequences" for not only broadcasting and online content delivery, but also for cloud computing in general.
"The cloud computing industry is freaked out about this case," Frederick said.
Justices Sonia Sotomayor and Stephen Breyer expressed interest in his argument. The New York Times reports that Breyer commented that "what disturbs me on the other side [of ABC's argument] is, I don't understand what a decision" against Aereo "should mean for other technologies" – and those technologies include cloud computing.
At the core of the legal arguments in the case is whether Aereo's retransmission of broadcasters' content is a "public performance" – a status that would require Aereo to obtain the copyright holder's permission – and, of course, pay a fee, as do cable companies for retransmission over their cable networks.
Frederick argues that since their retransmission is on a one-to-one basis, the public performance stipulation doesn't apply. Aereo is merely providing each customer with their own private antenna, he argues, albeit one that resides in the cloud.
In his post-hearing statement, Frederick said, "We're confident, cautiously optimistic, based on the way the hearing went today that the Court understood that a person watching over-the-air broadcast television in his or her home is engaging in a private performance and not a public performance that would implicate the Copyright Act."
After Roberts' remarks, along with Justice Ruth Bader Ginsburg's comment to Aereo that "You are the only player so far that pays no royalties whatsoever," it appears that broadcasters should be the ones that are cautiously optimistic that their billions of dollars in retransmission fees garnered from cable carriers will not be challenged by cloudy antennae.
That said, attempting to predict how the Supremes will rule is a fool's game, as the Court's unexpected and convoluted decision [PDF] that upheld the individual mandate of President Obama's flagship Affordable Care Act, aka Obamacare, proved in spades.
But we can predict that if Aereo loses, they and their business model are likely doomed. Or, as ABC's lawyer Paul Clement put it, "If all they have here is a gimmick, they will probably go out of business, and no one should shed a tear." ®