Reg man builds smart home rig, gains SUPREME CONTROL of DOMAIN – Pics
LightwaveRF and Arduino: Bright ideas for dim DIYers
Controlling behaviour
Taking things further, I connected the Arduino and radio transmitter to the small Linux computer that any self-respecting geek would have in their home. A Python script runs a web server that accepts commands and relays them to the Arduino.
The web interface enables me to control the lights not only via a web browser but from a homemade iPhone app and a utility that lives in my Windows taskbar. Being able to turn on the lights whilst I'm working without having to get up is moderately useful and the geek in me loves being able to control them from my phone.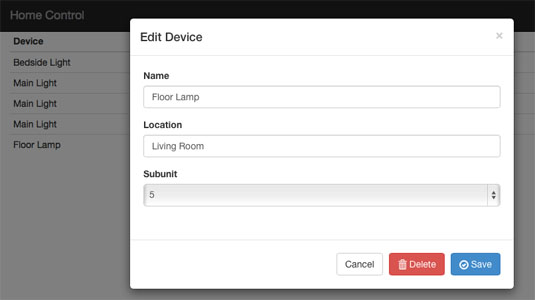 Editing a device
The security conscious could schedule the lights to turn on and off at set times, or even randomly. You could also have the lights come on with your alarm clock in the morning. So far, I haven't felt the need to implement those things.
Being able to dim the lights is very useful and the turning the lights off from bed is the killer feature. Most importantly, unlike a lot of other solutions on the market we get these features without any inconvenience.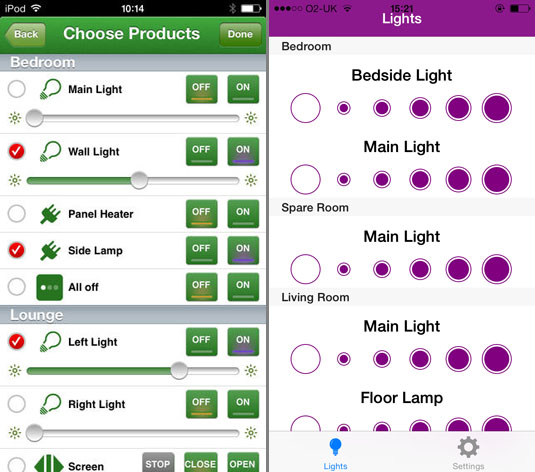 iPhone app: official version (left), homemade version (right) lets me control my lights from the pub
Home automation kit has been around for years, but JSJS has brought it to a new price level and made it incredibly easy to install. Its range is comprehensive and contains wall sockets, remote-controlled lightbulbs, heating controls and a wide range of sensors including magnetic and proximity. You can buy starter kits containing multiple switches and remotes and get started for less than £100. If you're interested in home automation, then this range of LightwaveRF gear is a good place to start. ®
More home automation products and information at LightwaveRF.