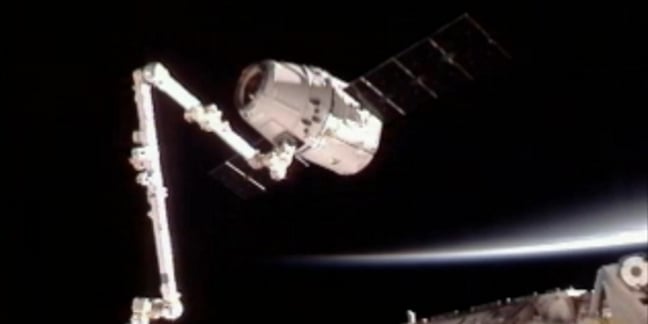 Easter Sunday may have been all about eggs and chocolate bunnies for many, but the crew of the International Space Stations spent the day acting as specialist stevedores as SpaceX's Dragon capsule was successfully attached using the station's robotic arm.
"Dragon attachment to the International Space Station is confirmed! Final berthing completed at 10:06 am ET, hatch opening and cargo unload up next," SpaceX confirmed.
On Friday, the Dragon capsule was successfully launched from Cape Canaveral atop a Falcon 9 rocket, and spent two days catching up to the ISS using its chemical boosters. After a visual checkout, the capsule was mated with the ISS's Harmony module, and the astronauts prepared to start unpacking 5,000 pounds of supplies, hardware, and science experiments.
"Congratulations to the entire ops team for the successful launch, rendezvous and capture operation," said ISS commander Koichi Wakata. "The vehicle, the spacecraft was very solid and very stable. And the Canadarm2 was really solid, and it made it easier for us to capture."
There's no rush to unpack however – the Dragon is due to spend the next four weeks attached to the ISS as its 150 science experiments are unloaded and set up around the station. The capsule will then be reloaded with completed experiments, garbage, and defunct hardware before being sent back down the gravity well.
It's good news for SpaceX, which is now a quarter of the way through its 12-mission ISS resupply contract with NASA. The contract is worth $1.6bn to the company, but almost as important is the credibility SpaceX will get as a reliable orbital delivery firm.
In another piece of good news, SpaceX is also reporting that it managed to safely test-land its Falcon 9 booster after it had punched the Dragon through Earth's lower atmosphere. After the capsule separated, the booster deployed landing legs and began a controlled descent to the Atlantic Ocean for retrieval.
According to SpaceX the rocket was successfully brought down to sea level using residual fuel left in its tanks and hovered over the ocean before shutting down its engines. A retrieval ship was supposed to be on station to pick it up, but bad weather kept it in port. Several craft are now en route to see if the booster can be retrieved.
SpaceX's founder Elon Musk had been cautiously optimistic about the planned soft landing for the booster, but only gave the mission a 40 per cent chance of success. If the flight telemetry is correct, the next mission could see an attempt to land the hardware on terra firma. ®
Sponsored: How to simplify data protection on Amazon Web Services