Number crunching suggests Yahoo! US is worth less than nothing
China and Japan holdings worth more than entire company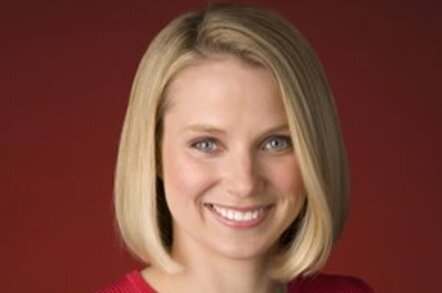 It has been 18 months since former Google golden girl Marissa Mayer took over the helm at Yahoo! and outwardly things look pretty good, but the latest financial analysis shows the Purple Palace might actually be worth less than zero.
Since taking over control of the once-great internet portal, Mayer has worked hard to revamp the site, making a host of acquisitions, slashing products, and reworking the internal corporate team to gear up Yahoo! for growth. She even personally took a hand in redesigning the corporate logo with a nine-degree slanted ! to express the company's whimsical nature.
Wall Street likes her approach, and the company has seen its share price more than double in value since Mayer became CEO, making Yahoo! worth around $37.5bn based on the current stock price. But that valuation includes a couple of assets that cast serious doubts over how successful Mayer's revolution has been.
Firstly, there's the company's remaining stake in the massive Chinese internet portal Alibaba, which is currently preparing for an IPO. Analysts polled by Bloomberg expect the company to be worth $153bn, and Yahoo!, which invested in the firm back in 2005, still holds a 24 per cent stake.
That would make Yahoo!'s stake worth $36.7bn – a very healthy chunk of change, but one which accounts for a worryingly large section of the total financial worth of the company. But Alibaba isn't Yahoo!'s only Far Eastern asset.
The company also owns a 35 per cent stake in Yahoo! Japan. That firm is publicly traded, and on current stock valuation is worth $26.3bn, making Yahoo!'s stake worth just over $9bn. Together with the value of Alibaba, this makes Yahoo!'s other operations worth about minus $6bn.
In fact, it's not that simple. This is all dependent of stock valuations, and we're in the midst of yet another bubble in technology prices that is sending valuations into silly-money territory (WhatsApp at $19bn springs to mind), but it certainly casts a different light on Yahoo! and its future.
On Tuesday Yahoo! reported that revenues fell 1 per cent on the quarter and adjusted earnings fell 21 per cent year-on-year. Marissa Mayer said she was "pleased by our first quarter performance." ®