Borked Bitcoin bunker MtGox in administration: Lawyer seizes control
$500m in BTC up in smoke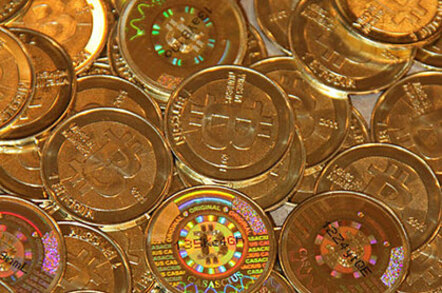 Collapsed Bitcoin exchange MtGox has been put into administration by a court in Japan, where the website is based, after it became clear the site's chances of recovery are nil.
The biz, which has mislaid half a billion dollars of BTC, was granted protection from creditors in February by the Tokyo District Court as it battled to survive.
But today an administrator was appointed by the bench to effectively seize control of the exchange, paving the way for bankruptcy proceedings and the liquifying of assets.
"I, as the provisional administrator, will administer the assets of the company under the supervision of the Tokyo District Court," lawyer Nobuaki Kobayashi said in a statement [PDF].
"I will strive to fairly and equitably administer the company's assets, both domestically and internationally, by attempting to utilize certain foreign procedures, including a Chapter 15 filing in the United States of America.
"The future outlook is that, although it is subject to the decision by the Tokyo District Court, it is expected that the commencement of bankruptcy proceedings will be ordered."
The BTC trading website had formally applied to the court for time to rebuild, but this was today shot down by the bench. "The dismissal of the application for commencement of a civil rehabilitation procedure will create great inconvenience and concerns to our creditors for which we apologize," the exchange's founder Mark Karpelès said afterwards in a statement [PDF].
People familiar with the legal battle whispered to the Wall Street Journal that contacting creditors all over the world was proving too difficult for the company, and that the website's staff had run out of ideas for fixing the mess. This led to the court appointing an administrator to take over the exchange.
MtGox hit the rocks in February after somehow misplacing about 850,000 Bitcoins – today worth $500m dollars – 750,000 of which belonged to its customers, and 100,000 was its own private stockpile. It claimed the missing virtual currency was stolen by fraudsters, and filed for bankruptcy protection with liabilities of 6.5 billion yen ($64m).
At the end of last month, the exchange found a stash of 200,000 BTC locked in its digital vault, which if liquified will still leave plenty of creditors out of pocket. But if a buyer can be found for MtGox, people owed money could have a slice of future earnings, it's been suggested.
"MtGox Co., Ltd. intends to fully cooperate with the provisional administrator including by handing over to the provisional administrator current negotiations with sponsor candidates to maximize the distribution to all creditors following a transfer of the business to a sponsor," Karpelès said today.
Speaking of cooperation, the exchange's founder was supposed to travel to the United States this week to face questions about the bankruptcy and a subpoena from the the US Department of Treasury's Financial Crimes Enforcement Network (FinCEN) as part of a related civil action suit against the exchange.
But MtGox's lawyers said Karpelès needed to hire new representation to defend against FinCEN's issues, and he wouldn't be going to the US until he got it. They've asked the US courts to wait until early next month, although they wouldn't guarantee he'd show up then either. ®