Google's latest mega-earnings fail to impress shareholders
What, just $15.4bn? You bore us, Google...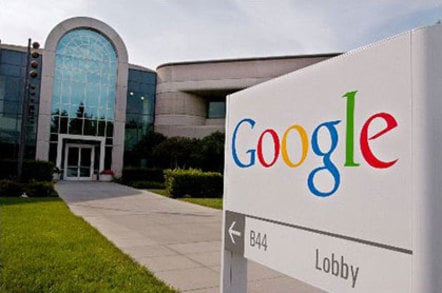 It's hard to be disappointed about quarterly revenues of $15.42bn – unless you're Google, that is, and the analysts expected you to bring in even more.
The online ad-slinger underperformed in both revenue and earnings per share during the first quarter of its fiscal 2014, based on the average estimate gathered by Yahoo! Finance.
The analysts were expecting Google to report revenues of $15.52bn for the three months ending March 31 and earnings per share of $6.40, but its actual revenues were lower and its earnings came in at a slightly more modest $6.27 per share.
So that's the bad news. For any other company, however, Google's performance might be considered outstanding, having increased its revenues by 19 per cent, year on year, for the second quarter in a row.
Its profits grew somewhat less, up 2.9 per cent from the year-ago period to hit $3.45bn for Q1 of 2014.
Part of that slower net income growth is due to a continuing trend in the search advertising business, where although the number of clicks for which Google earns money keeps rising, the average amount it's paid for those clicks is falling.
Paid clicks were up 26 per cent over the year-ago quarter and up 1 per cent since the previous sequential quarter, but cost-per-click was flat from the fourth quarter of 2013 and down 9 per cent since the year-ago period.
Google's traffic acquisition costs also continue to rise, up 9.1 per cent in Q1 of 2014 as compared to the previous year's quarter. On the plus side, those costs as a percentage of revenue were down, with traffic-acquisition fees amounting to 23 per cent of revenue in the quarter, compared to 25 per cent for the same period a year ago.
All in all, advertising accounted for 90 per cent of the Chocolate Factory's revenues, which was up slightly from the previous sequential quarter but down year-over-year.
Google's remaining proceeds came from what calls its "other" category, which comprises all forms of non-advertising revenue, including sales of things like Android devices, Chromecast, and apps and media from the Google Play store. Those revenues were $1.55bn in the quarter, or 10 per cent of the total, compared to $1.05bn in the first quarter of 2013, which was 8 per cent of that year's total.
The company is also pulling in a larger share of its revenue from outside the United States, with non-US sales amounting to 57 per cent of its total revenues in Q1 of 2014 compared to 55 per cent in Q1 of 2013.
None of this seemed to please investors, however, who sent Google's stock price up briefly during regular trading but tumbling back down after hours, to land down 3.35 per cent. ®