Microsoft lobs pre-release Windows Phone 8.1 at devs who dare
App makers can load it before anyone else, but if they do they're stuck with it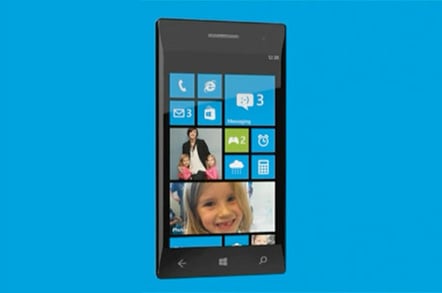 Developers can now be among the first to experience Windows Phone 8.1 on real-world devices, provided they opt into Microsoft's preview program – and they're willing to risk wrecking their phones.
The software giant made the latest version of its smartphone OS available for download on Monday for registered Windows Phone developers and anyone with a "developer unlocked" handset.
There are a few catches, of course. Most notably, flashing your phone with the prerelease OS could void your warranty with the manufacturer or your mobile carrier.
Also, the update includes software from Microsoft but nothing from its hardware partners. If your phone needs updated drivers for some of its components, those aren't included – meaning your phone could become unstable or you could lose some features that work now.
And if you do install it, there's no turning back. Once it's loaded on your device, Redmond promises to update you to the release version of Windows Phone 8.1 automatically when it ships, but there's no way to revert to an earlier version of the OS.
Microsoft says the main audience for this early release is developers whose apps can't easily be tested in an emulator – for example, apps that rely on sensors, Bluetooth, NFC, or the camera. On-device testing can also demonstrate how well apps respond to real-world touchscreens.
Mind you, there probably aren't that many Windows Phone 8.1 apps that need testing yet. Redmond only shipped Visual Studio 2013 Update 2 – the version you'll need to develop for the new OS – at its annual Build conference earlier this month, and then only as a release candidate.
Still, there are some compelling features in the new release that developers will want to get their mitts on. Chief among them are the "contextual voice capabilities" that form the core of Redmond's new Siri killer digital personal assistant, Cortana. The Bing team has even released the source code to a new reference app that demonstrates how to take advantage of these features.
Windows Phone 8.1 also makes it possible for developers to build "universal Windows apps" that run on Windows Phone, Windows 8.1, and Windows RT with a minimum of code changes for each platform.
Finding users for your app remains the real challenge. IDC reckons Microsoft's share of the smartphone market will remain in the single digits through 2018, at least, and that's for all versions of Windows Phone.
New handsets with Windows Phone 8.1 preinstalled won't start shipping until the end of this month or early May, and current customers shouldn't expect to receive the update until sometime this summer. ®
Sponsored: Detecting cyber attacks as a small to medium business