US biz spaffed more dosh on internet ads than TV spots in 2013
Tiny billboards on mobile gadgets shifted 110% more dollars, too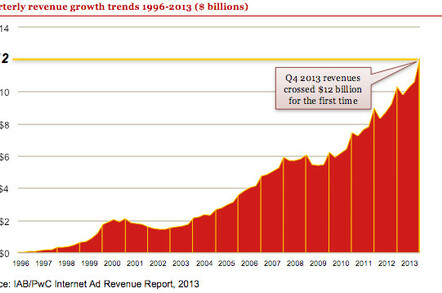 Advertisers in the United States have splashed more of their ad budgets all over the web than on the telly for the first time ever, the Interactive Advertising Bureau reported.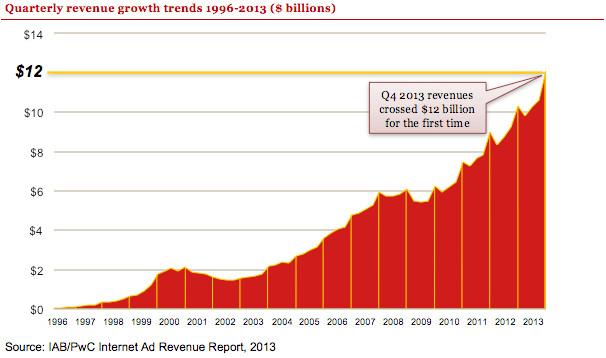 Read 'em and weep TELEVISION - growth of internet advertising revenue to 2013. Credit: IAB/PwC
Online ad spending in the US hit a record $42.8bn last year, comfortably clearing the $40.1bn spent on traditional TV advertising. The landmark figure was a sizable 17 per cent markup on the-then record piles of money spent on internet ads in 2012, according to the IAB report.
"The news that interactive has outperformed broadcast television should come as no surprise," said Randall Rothenberg, president and chief of the IAB. "It speaks to the power that digital screens have in reaching and engaging audiences."
Once again, mobile was a fast-growing segment of ad sales, rising to $7.1bn in 2013, a 110 per cent boost on the previous year and the reason it accounted for 17 per cent of all revenues. Ads in search results was also big last year, with sector sales up nine per cent from 2012 to $18.4bn.
"Triple-digit advertising revenue growth from mobile devices contrasted the more tepid eight per cent growth from traditional computer screens," said PricewaterhouseCoopers partner David Silverman. "This is simply a reflection of the change in how and where consumers are viewing their information—on the go."
Retail firms continue to be the big spenders on web ads, buying a fifth of the year's total, while financial services companies bought 13 per cent of the ads and the auto industry ran a close third with 12 per cent. ®
Sponsored: Minds Mastering Machines - Call for papers now open