Elon Musk's LEAKY THRUSTER gas stalls Space Station supply run
Helium seeps from Falcon 9 first stage, delays new legs for NASA robonaut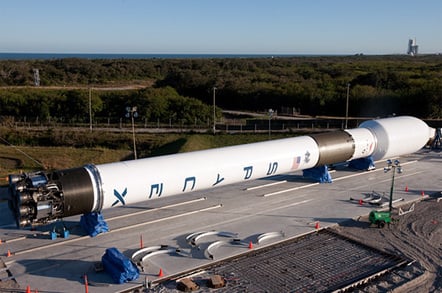 Elon Musk's rocketeers at SpaceX have called off Monday's launch of their CRS-3 resupply mission to the International Space Station after a problem with its main Falcon rocket.
"Today's launch has been scrubbed due to a Helium leak on Falcon 9's first stage. A fix will be implemented by the next launch opportunity on Friday April 18, though weather on that date isn't ideal," the company said in a statement.
SpaceX's third resupply mission had been scheduled to take off at on Monday at 4:58pm EDT (9:58pm UTC), and carry nearly 5,000 pounds of hardware and supplies up to the astronauts on the ISS. The payload included new science experiments, some vital supplies for the astronauts, and a pair of legs for Robonaut 2, the robotic crewmate aboard the space station.
Chief among these is a new space suit to allow the astronauts to get outside the space station and make repairs, as well as several spare parts to repair the other suits on board. NASA said that the parts include fan units to maintain temperature and humidity while in the inimical environment in space.
But the delay isn't just a problem for the astronauts, but for SpaceX itself, since the rocket launch was also going to be used to test the ability of the company to reuse its rockets. After the launch the first stage Falcon rocket was scheduled to detach and perform another burn to slow down again.
Once the rocket had slowed sufficiently it would fall back to Earth. The SpaceX team then planned to fire up its motors for a controlled descent, bringing the rocket into a hover at sea level over the ocean, before letting it splash down and sink – although a ground landing is planned later once this booster had proved the concept safely.
All of this is now on hold until the next launch window this Thursday. NASA, SpaceX, and orbital enthusiasts will all be crossing their fingers. ®
Sponsored: From CDO to CEO