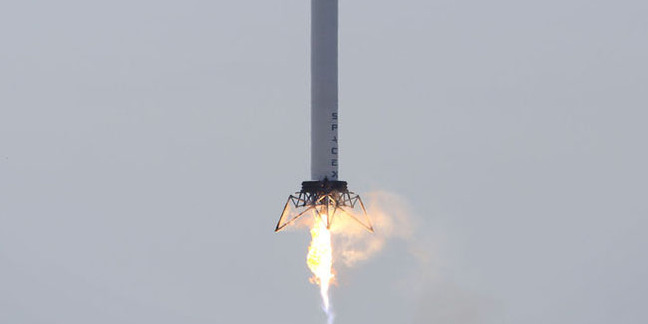 NASA has said that SpaceX's latest cargoship launch to the International Space Station will go ahead, despite a critical computer outage on the station, allowing the firm to test the craft's hovering abilities.
Mounting landing legs (~60 ft span) to Falcon 9 for next month's Space Station servicing flight pic.twitter.com/zyfazr2BB2

— Elon Musk (@elonmusk) February 24, 2014
The booster rocket that's blasting the Dragon supply capsule into space is going to attempt to make a hovering soft landing after it's disengaged and dropped back to Earth.
The spruced-up Falcon 9 has its own landing legs, which Elon Musk's space tech company hopes will eventually make for precise set-downs on the surface of alien worlds. For this test though, the rocket will still be coming down over the ocean, just in case.
The launch is already a month late with its nearly 5,000 pounds of payload, including VEGGIE, a new unit capable of growing salad vegetables for the 'nauts to munch on. The ship was delayed from March after a ground-based radar system at Cape Canaveral was damaged.
Mission control said yesterday that it would go ahead with the liftoff at 4.58pm EDT today after deciding that it wouldn't violate any launch commit criteria to head off for the station when it has a computer down. The backup command relay box, also known as a multiplexer/demultiplexer (MDM), sits in the station's S0 truss and went down on Friday.
The prime MDM is still operational. The MDMs control the ISS' external cooling system, its Solar Alpha Rotary joints and its Mobile Transporter rail car, as well as overseeing other truss systems.
Ahead of the Dragon launch, the stations' Mobile Transporter will be put into the proper position and then once the ship blasts off, the solar arrays will be set to the right angles for the capture of the cargoship and its berthing on the Harmony module. With these steps down, the station will be able to snag the Dragon even if there was a problem in the prime MDM.
An extra spacewalk is being planned for around 22 April to replace the back-up box with a spare the station already has. The 'nauts are busily prepping two US spacesuits for the stroll, including replacing a fan pump separator on one of the suits. ®
Sponsored: How to simplify data protection on Amazon Web Services