Jeff Bezos reveals Amazon's brutal scale in annual letter
Bit-flipping retail mogul seems hybrid of Ford and Rockefeller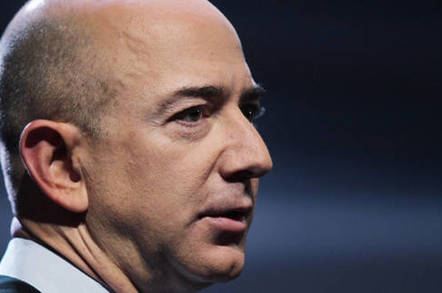 Analysis Amazon's mercurial chief executive Jeff Bezos is equal parts John D Rockefeller and Henry Ford, judging by his annual letter to shareholders.
In the letter, which was published on Thursday, Bezos took investors "on a tour that samples a small subset of [Amazon's] various initiatives".
What this makes clear is that Amazon is less a retailer and more a logistics organization dedicated to moving physical goods and digital bits in as many ways and as efficiently as possible.
Some of these goods have a high margin, like digital books on Amazon's own publishing imprint which are served to customers through Kindle devices. Others are low margin like products shipped by Amazon for third-party companies that use its distribution services. The secret to Amazon's (frequently unprofitable) business is that it doesn't care about the margin mix – it's goal is volume at all cost.
Bezos's tour included Kindles, flying drones, vast data centers, sophisticated "fulfillment" warehouses for shipping goods, public policy breakthroughs like Kindles now being allowed on planes following "four years" of work by an Amazon public policy team, landmarks in digital media from books to film to games, details on same-day delivery services and information on its "Mayday" service which lets tablet users summon a human helper via webcam at the touch of a button, among others.
"There are many programs I've omitted in this letter that are just as promising, consequential, and interesting as those I've highlighted," Bezos wrote. No mention was made of Kiva Systems, for example – a company Amazon bought to let it deploy robots within its warehouses to further lower the cost and speed the delivery of goods.
What the letter makes clear is that Amazon as a company bears more relationship to a Standard Oil or a Ford motor company than a typical retail business like a Walmart.
Just as Standard Oil sought to own the entire oil distribution network from pumps to gas stations, Amazon is trying to do the same with digital goods (and even pure information via Amazon Web Services). Similarly, in the same way that Ford built a tremendous amount of technology to let it reduce the cost and increase the flexibility with which it could produce cars, Amazon has done the same for systems that let it move products.
This causes some changes in how the organization functions as it shifts the emphasis away from competing on individual products (the whole company, after all, is engineered to do this as efficiently as possible) and instead to dealing with problems of information.
Specifically, Amazon's goal now is to deploy systems that give it as much information about not only what people are doing with its platform, but how other physical and e-retailers work. Amazon has grown so large as a business that its problem is information asymmetry, and it is solving these problems via grand schemes.
It could be worse. Standard Oil at one point had its own espionage and intelligence agency to solve this problem.
For this reason, when Bezos picks out Amazon inventions in his letter like a planned fleet of delivery drones or a partnership with the US Postal Service to ship goods or an expansion of the "Pay With Amazon" scheme, it's worth remembering that the ultimate purpose of these inventions is to furnish Amazon with the competitive intelligence it needs to go into a new market.
After all, what better way to learn about the wider credit card market than plug your payment system into other sites, or learn about the art of shipping goods to the most far-flung parts of the country than partner with the US postal service, or gain an understanding of the shape of the future robotics market than build your own drones?
We here at The Register have already discussed how Amazon uses its vast network of businesses to put pressure on third-party partners and how it operates in a secretive manner especially with regard to its widespread use of open source software – two manifestations of this approach within the "Amazon Web Services" subset of its digital business.
After reading the annual letter, the overall impression of Amazon is that it is a machine for taking the capabilities of a diaspora of independent companies and absorbing them into a single, mammoth organization.
Just as Google hopes to become a company whose core business is the analysis of the world's information, Amazon seems set to become the de facto company for shipping all real and digital goods across the world, regardless of profit margin.
"This decentralized distribution of invention throughout the company – not limited to the company's senior leaders – is the only way to get robust, high-throughput innovation," Bezos wrote. "What we're doing is challenging and fun – we get to work in the future."
In a rather neat example of this approach Amazon announced on Thursday that it was buying Comixology – a large digital comics store whose products would go perfectly with Amazon's latest line of high-res colorful Kindle Tablets. ®
Sponsored: Minds Mastering Machines - Call for papers now open