Which sweaty exec dreamt up Office for iOS? Ballmer, Ballmer, Ballmer
Supremo personally pushed through fondleable software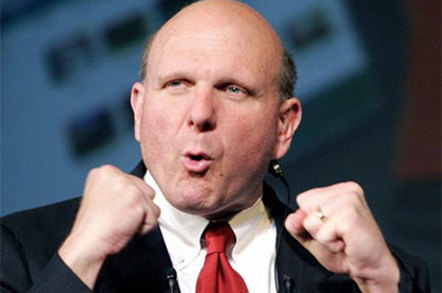 You wouldn't expect Steve Ballmer to shout "iPad, iPad, iPad" at his staff, but that's exactly what the perspiring madman might have yelled ahead of the release of Office for iOS.
According to members of Microsoft's iPad development team, Bill Gates' excitable protégé personally pushed through the release of Microsoft's Office software for Apple's fondleslab.
Writing during one of Reddit's "Ask Me Anything" sessions, software engineers Sangeeta Mudnal and Jeff Zhang said that sweaty Steve couldn't wait to let fanbois rub their mitts on the little-loved software.
The pair, who both worked on Office for iPad development team, wrote: "The decision to ship Office for iPad was made before Satya became CEO. Steve Ballmer approved the plan to ship Office for iPad."
The Reddit AMA is fast becoming the weapon of choice for any public figure who wishes to send a message without facing the full attentions of a professional journalist. AMA participants can choose to ignore the more difficult questions that are inevitably fired their way, whilst taking a good long time to respond to ones that will make them look good.
"We have a very normal team Apple Developer account," the team responded when asked if they stumped up the $99 to get a dev account. "And yes, Apple did approve the apps on the first try. We're very proud of that!"
In a bid to lift the perception that life at Microsoft is as exciting as a city break in purgatory, the team shared details of a prank played on a senior member of staff.
"We had a team karaoke event and some of us convinced one of our dev managers to sing ['90s dance pop hit] Barbie Girl with us," the team continued. "A few months later, he went on an extended vacation, and we took the opportunity to upgrade his office to a Barbie Princess theme: We also stuck a speaker in his ceiling tiles that played Barbie Girl nonstop for a while before he figured it out and took it down."
The team also explained why Clippy, the annoying Office mascot, was killed off.
"First, let's get one thing straight: on the Mac, it was Max, not Clippy. Max was an icon of a Mac SE, and, when he got bored, he'd turn himself into a Rubik's Cube. In typical Mac fashion, Clippy was lame. Max was cool," they admitted.
The questioning took a bizarre turn when Reddit readers asked a series of questions about Itchy and Scratchy, the ultraviolent cartoon characters from The Simpsons.
"You should know that this question confused the hell out of our PR and marketing teams," Microsoft responded. "So, awesome job!" ®