Honeybee boffin stings own wedding tackle... for science
Not the worst place to be stung, says one man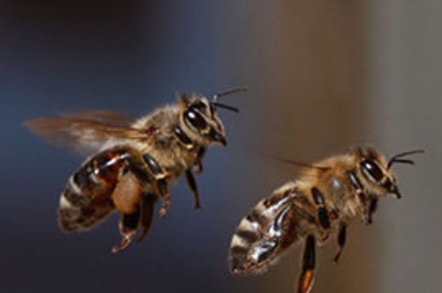 A Cornell student has researched just how much pain bee stings create by putting the buzzing creatures down his pants and, um, holding them there.
Michael Smith's work can be found in this PeerJ paper, which explains how his methodology as follows:
"Bees were taken from the cage haphazardly with forceps. To apply the sting, the bee was grabbed by the wings and pressed against the desired sting location. The bee was held against the sting location until the sting was first felt, and kept at the location for 5 seconds to ensure that the stinger would penetrate the skin. The bee was pulled away after 5 seconds, leaving the stinger in the skin. The stinger was left in the skin for 1 minute, and then removed with forceps."
The student stung himself three times in each of 25 body parts, including his … erm … wedding tackle.
After that phase of the experiment, Smith rated his pain on a scale of 1 to 10.
The most painful location, which he rated a 9, was the nostril. The penis scored a mere 7.3. And in case you're wondering what is the "best" place to be stung, try either your scalp or upper arms, both of which rated just 2.3 on the ouchiness scale.
Smith told National Geographic he doesn't think his data is particularly useful: rating pain is a very subjective thing – and his research only extended to one subject, himself – so a valid bee sting pain scale would be hard to pin down. ®
Sponsored: Becoming a Pragmatic Security Leader