Reg slips claws across Nokia's sexy sixties handsets, fondles flagship too
Budget contenders, premium wannabe break cover - briefly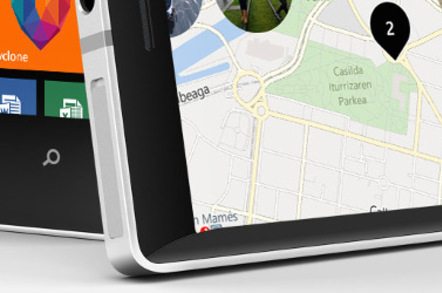 Hands On Nokia launched the most important Windows Phone of 2014 last week - along with an impressive new flagship. But both launches were rather eclipsed by the massive update to the Windows Phone OS itself - an overdue pregnancy if ever there was one - and the historic news Microsoft is scrapping royalties.
Phones and smaller tablets will be royalty-free.
The new low-end Nokias (there are three variants of the same model: 630, 630 dual SIM and the LTE-capable 635) are important because their sales will tell us if Windows Phone's momentum can be sustained.
WP is proportionally the fastest-growing platform (by volume: the fastest-growing is Android) but this is almost entirely due to one phone: the Lumia 520, a breakthrough device. In some markets almost 60 per cent of the platform's market share consists of Lumia 520s. The phone has helped WP score a 10 per cent share in Europe and even overtake Apple (which still prices at a premium) in over a dozen markets, according to Microsoft.
Nokia had cut out the luxuries from the 520 to reach an aggressive price point - around £99 in Western markets, dispensing with - but once there, it made the competition look clumsy. Nothing could match such a friendly, slick performer at this price. Only with the arrival of the Moto G did Android provide some good value competition - but by then the G was almost 40 per cent more expensive. Nokia had finally got it bang on – catching pre-pay punters as they abandoned BlackBerry – and it vindicated the view that punters enjoy the Windows Phone UX once they get a chance to use it.
That's a tough act to follow. The 630/635 is the 520's natural successor. How does it shape up?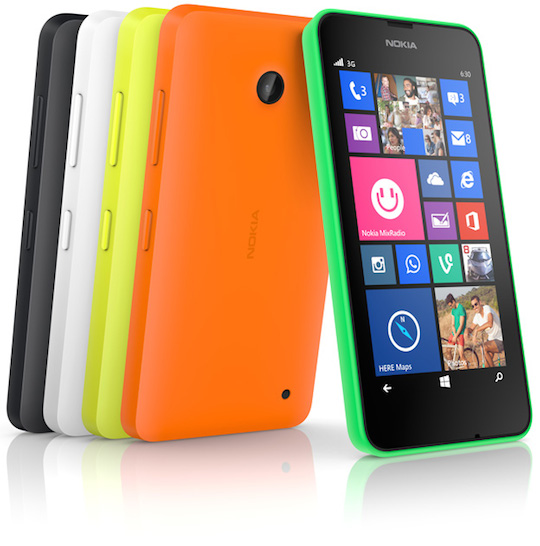 Cold cuts
First off, price. The 520 launched at €139 (£120, $184) before taxes and subsidies – hitting the streets at £99 (and $99 via AT&T Stateside). This time the lemons-for-lemons "list price" is down to $159 for the single SIM 3G Lumia 630. So we're looking at a street price as low as £79 in real terms.
Most analysts were satisfied with this. As time moves on, components get cheaper and more capable, and intense competition between "packagers" like Qualcomm and Mediatek forces the hardware platforms to be dramatically cheaper. And these platforms improve: Android 4.4 Kitkat performs much better on lower-cost hardware than older versions, which gave it the "Landfill Android" TM reputation.
So the Lumia 630 packs in a quad core (Snapdragon 400) for less than last year's dual core.
And WP hasn't stood still either. The platform update is possibly the biggest single leap forward for any modern era smartphone system - as it packs in almost three years of user-land updates (Windows Phone 8 itself was mostly plumbing changes) and long overdue system updates, such as the ability to run apps from an SD Card.
Wise to the enterprise
In its promotional videos for Windows Phone 8.1, the demonstrations for Cortana are conducted using the 630. For many of you lot, the relevance here is that it's finally enterprise-ready: VPN support, some MDM (mobile device management) features, enterprise mail encryption and enterprise Wi-Fi standards are finally supported. A lot of stuff here was in Windows Mobile 6.5 and stripped out - but finally, it's back. In addition, Sharepoints are finally supported by the included version of Office.
With WP finally getting somewhere as a business platform, the 630/635 becomes a contender as a "fleet phone", a cheap enterprise device that will be bought in large numbers.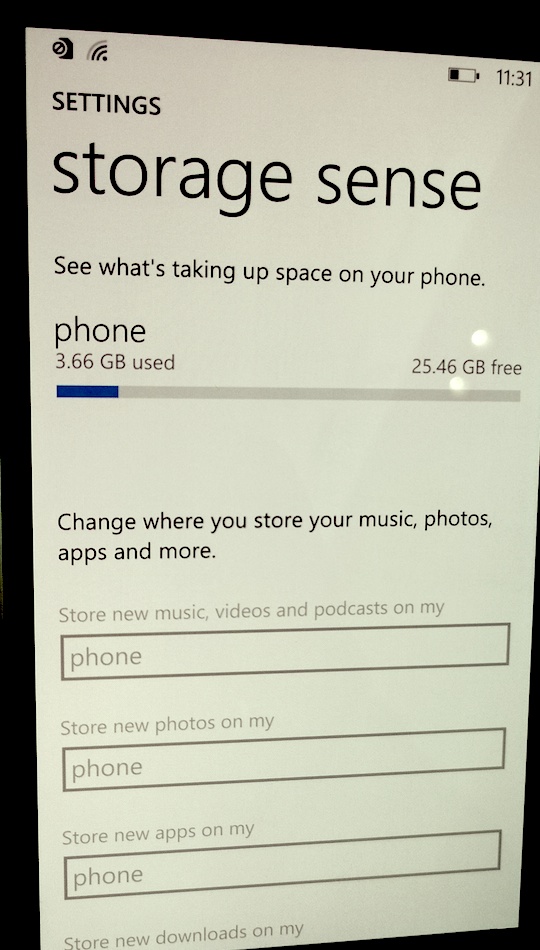 Run apps from an SD card - and control where stuff goes.
Handling the devices, it's clear Nokia's product designers have stuck to the successful formula. The 520 omitted "luxuries" like an LED camera flash, front-facing camera, a magnetic compass sensor, the "Clear Black" screen polariser which makes the phone more readable outdoors, while the oleophobic display coating wasn't anything like as good as that found on high-end smartphones.
The 630/635 also omits the camera flash. More surprisingly Nokia has dispensed with the camera button and dedicated button panel (Back, Home, Bing) and integrated these buttons onto the display. This makes it a little more fiddly to use - my first impression is that Microsoft should have made this on-display button strip a little bigger. My guess is that in the cost-sensitive end of the market this will become the norm.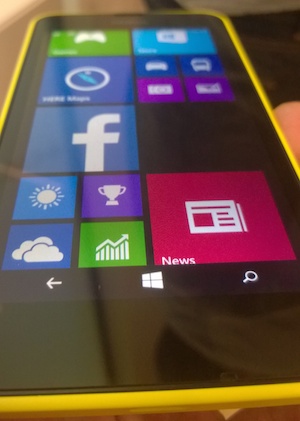 The first Windows Phone with on-screen buttons. It's a bit of a squash.
The display size has been upped to 4.5 inches from 4.3 inches, so it isn't quite as bad as it sounds - and with both Gorilla Glass 3 and the Clear Black polariser now included, it's a huge and welcome step up. (For a little more money, you get a better pin-sharp display in the excellent Moto G, but you will be paying 20 to 40 per cent more for a phone without an SD card slot.)
The battery has also been improved: there's a removable 1830 mAh instead of the 1430 mAh. That's 28 per cent more powerful (or 4,000 per cent more if you're using the Tech City UK calculator).
Only time will tell whether the new hardware platform and OS are as frugal as the 520, which had two cores but was clocked higher (1.7Ghz vs 1.2Ghz). I found the phone ran fairly smoothly, but did experience a long pause while firing up the camera for the first time.
Build quality is excellent - superior to the 520 (which had a strip of padding holding the battery in place). It comes in black and white, but you'll need sunglasses for this season's colours Cosmetically I found these pretty unsettling - the green isn't just green, but "Springfield Power Plant nuclear fuel rod green" - like this. Nokia has bored of red and cyan. I doubt this will bother enterprises, which buy the black or white one anyway, and most consumers will stick a case on it anyway.
On-board storage is unchanged at 8GB but it supports SD cards up to 128GB in size - and storage handling is much more sophisticated and granular in WP8.1.
Like the 520, then, the 630/635 is designed for emerging markets with the bonus of providing pre-pay and other cost-conscious consumers in developed markets like the UK a very decent value device. Apart from the colours, the combination of low-cost Lumia and the vastly improved WP8.1 looks like a winner.
Now to the new "flagship", the Lumia 930.
Sponsored: How to get more from MicroStrategy by optimising your data stack