AMD unveils Godzilla's graphics card – 'the world's fastest, period'
The Radeon R9 295X2: Water-cooled, 5,632 stream processors, 11.5TFLOPS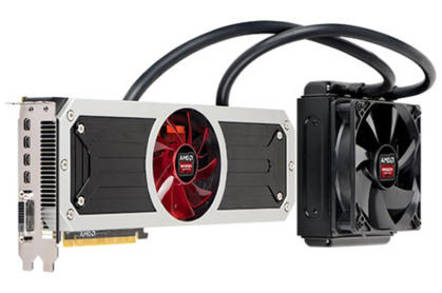 AMD has unveiled a massively powerful, water-cooled graphics card that it says "manhandles today's and tomorrow's games in maximum settings at 4K resolution."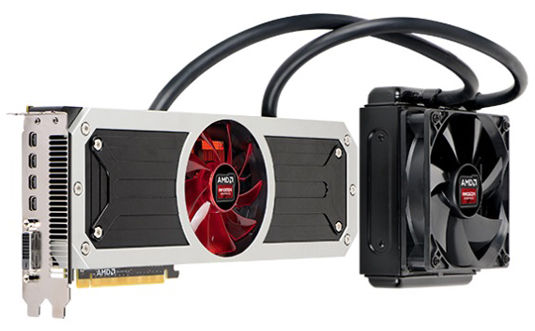 Two fans and a closed-loop cooling system keep the AMD Radeon R9 295X2 from melting down
"The AMD Radeon R9 295X2 graphics card is the world's fastest, period," the company says, justifying that claim with a footnote explaining that AMD compared the new card against an Nvidia GeForce Titan Black, which it says was that company's "highest performing graphics card as of March 12, 2014."
On March 26, however, Nvidia unveiled its GTX Titan Z, which like the Radeon R9 295X2 gets its grunt from combining two high-end GPUs on the same card – two Kepler GK110 chips in the Titan Z, and two Radeon R9 290X GPUs in the 295X2.
For the record, AMD claims that the R9 295X2 can pump out 11.5TFLOPS of compute performance, while Nvidia says that the GTX Titan Z's compute oomph tops out at 8TFLOPS – which just a few weeks ago seemed insanely great, but now appears to be an also-ran to the R9 295X2.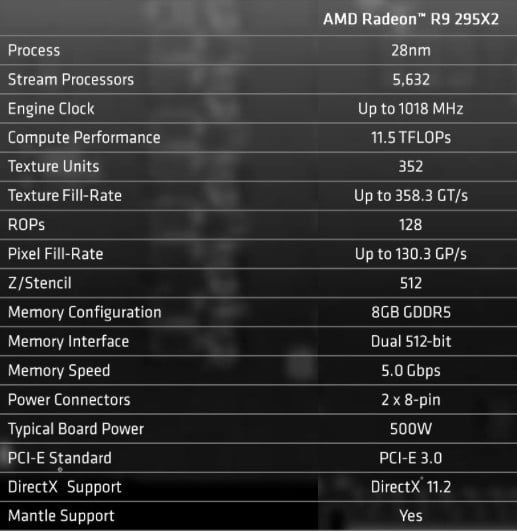 The two cards, however, are aimed at different markets – and their price points support that assumption. At $2,999, the GTX Titan Z is aimed at the HPC space, where Nvidia has a clear lead over AMD. When announcing it, Nvidia CEO and cofounder Jen-Hsun Huang said, "If you're in desperate need of a supercomputer that you can fit under your desk, we have just the card for you."
AMD's Radeon R9 295X2, on the other hand, lists for a "mere" $1,499. In its announcement of the beast, AMD said it was "designed for ultra-enthusiasts at the apex of PC gaming."
While the GTX Titan Z is air-cooled, the Radeon R9 295X2 uses what AMD describes as "an advanced closed-loop, pre-assembled and maintenance-free liquid cooling system" designed in cooperation with the cooling gurus at Asetek, who devise cooling systems for use cases from the data center on down.
"Today's high-end graphic cards pack insane amounts of power into a very small area and removing that heat is no small task," Asetek founder and CEO André Sloth Eriksen said in a statement. "Utilizing our liquid cooling for graphics cards unlocks new opportunities for performance and low noise."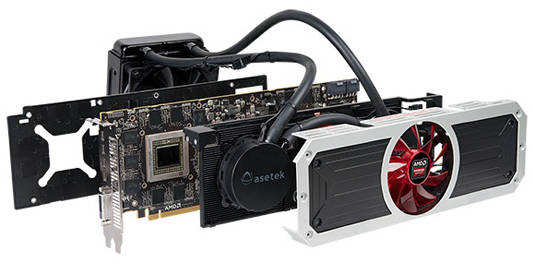 No cheap plastic here – the Radeon R9 295X2 sports all-metal construction
In their comprehensive review of the Radeon R9 295X2, the hardware honchos at HotHardware say that although the goal of silent running for such a powerful piece of graphics goodness may be unachievable, the dual-GPU, 5,632–stream processor beast is "significantly" quieter than when running two 2,816–stream processor Radeon R9 290X cards in a dual-card CrossFire configuration.
"Not only that," HotHardware says, "but the noise produced by the Radeon R9 295X2's larger fans, produces a lower-pitched sound that's less irritating to our ears than the barrel-type fans on other cards."
Okay, so AMD's Radeon R9 295X2 is hella powerful, runs (relatively) cool and (relatively) quiet, provides immersive sound via AMD's TrueAudio tech, supports AMD's Mantle API to take best advantage of the company's Graphics Core Next architecture, and can natively drive up to five displays due to AMD's Eyefinity multidisplay tech.
"What more can a gamer ask for? Nothin'," says AMD gaming PR lead Robert Hallock in a blog post. "And that's why you should bring one home for yourself when they're available on-shelf at the end of April."
But even at half the price of Nvidia's GTX Titan Z, the Radeon R9 295X2 ain't cheap – it's well over double the price of the Radeon R9 290X. You'd also want to pop for a 4K display or a multidisplay setup, along with a rig that can support the R9 295X2's 500W power hunger.
Are you an "ultra-enthusiast at the apex of PC gaming?" If so, are you tempted by this "world's fastest, period" gamer's wet dream? Let us know in Comments. ®
Sponsored: Webcast: Why you need managed detection and response