Rumour: Next Apple iThing to feature 65-inch screen. Four-limb multitouch, anyone?
OMG, how handy is THAT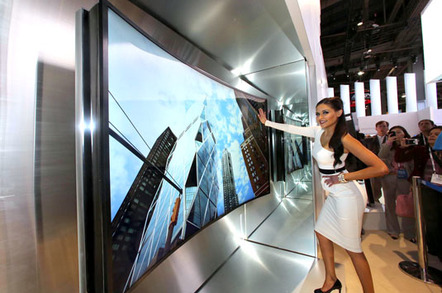 Apple is rumoured to have ordered some 65-inch LED panels, which some say might be used to build a huge new iTelly.
According to voluble Korean analysts, an unnamed firm is working with Cupertino to produce the epically large screens.
"The company is making 65-inch organic light-emitting diode sample panels for Apple's iTV in collaboration with Apple," claimed Lee Seung-woo, an analyst at Seoul-based IBK Securities.
"However, it is not certain whether Apple will use it for the mass production of its long-rumoured iTV as it is still running tests."
Despite years of rumours, no one really knows if or when Apple will release its fabled television.
Mysterious supply chain sources have claimed the release of the iTelly could be delayed until next year.
"Around two million Apple's iTVs with 65- and 77-inch liquid crystal displays were expected to hit the market in the second half of this year. However, Apple employees visited this local company in October 2013 to delay the plans to next year," a mole told the Korea Herald. "Following the visit, the display maker's stock prices plunged."
It is thought the delay is down to Apple's decision to make its televisions using OLED rather than LCD.
"Though the yield rate of OLED panels is still not high for mass production, they are considered to be the best panels for TVs because of its high definition and the potential of curvedness," suggested John Seo, an analyst with Shinhan Investment.
We don't think the fruity firm should stop there with its ginormous screens. Perhaps it's time for an iWindow, to block out all the nastiness of the real world and replace it with shiny happy vistas (no pun intended). Maybe an iMirror to make all you ugly fanbois a little prettier.
What would you like to see Apple do with its huge screen? ®
Sponsored: Detecting cyber attacks as a small to medium business