Windows Phone 8.1: Like WinPho 8, but BETTER
Blog blag bug... You said WHAT would be in the OS?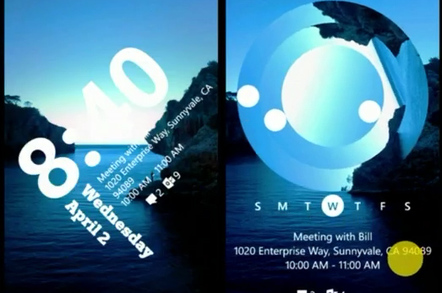 Hands on The biggest Windows Phone news this week was that it's now royalty free. This means it will cost manufacturers less to make a Windows Phone than an Android phone, all other things being equal. And, of course, it also received the much-anticipated update.
Yes, it's taken what seems like an eternity to arrive, but Windows Phone 8.1 should address many of the annoyances bothering loyal users.
Notifications, shortcuts for commonly used settings, on-device (ie, Spotlight-style) search, and a better browser are four usability features that topped every user's list of desired improvements. Welcome to 2011, you might say. But Microsoft had a simple and distinctive system already - and it has managed to make it more convenient without making it more cluttered.
And thankfully, some of the rumoured updates turned out to be hoaxes. The Start backgrounds touted by gadget blog The Verge were a fiction - tiles get a much more attractive personalisation update, and the long rumoured "Notification Tile" turned out not to exist. In fact, almost every blog prediction made about tiles turned out to be rubbish. Let's hear it for the bot-driven, click-driven blog economy!
After a hands on with the system (on first two Nokia WP8.1 devices) I found they considerably improve the usability of a system that was already simple and stable - but lacking the flexibility and fiddle-ability of Android.
It's astonishing that Windows Phone has made the strides it has in enterprise without supporting VPNs. Many SMEs don't use these, but for bigger enterprises, the ability to support enterprise Wi-Fi encryption standards, VPNs and S/MIME are mandatory. Finally, Windows Phone gets these.
The only catch?
You'll have to wait until the summer for the updates to roll through carrier inspection to existing handsets. And you'll have to wait until much later in the year for a UK version of the most-touted feature, the Cortana voice assistant.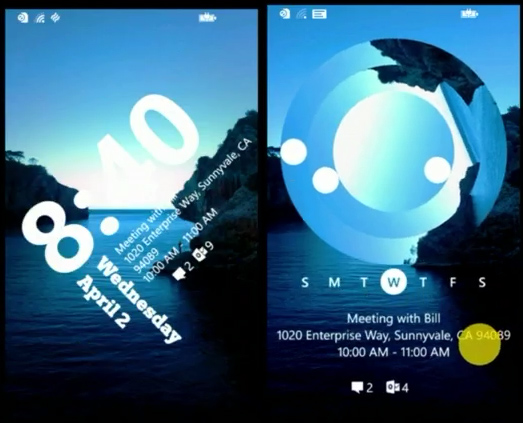 Microsoft's Joe Belfiore demonstrated new lock screen effects on Wednesday.
Let's dive in.
Tile-tastic UI gets Apple-tastic notifications
Microsoft opted not to make any radical changes to a UI which, once in users' hands, has been popular. (Windows Phone scores highly in net promoter scores with users). The designers resisted adding another context level - such as Tile folders. And Tiles behave exactly as before, so there's no new grouping or spacing options. You can opt to turn the "three column" view, introduced for devices with larger displays in the third Windows Phone 8.0 update, on or off.
The original design of Windows Phone was intended to make a notifications aggregator superfluous, as Tiles could show live information, and flash-past "Toast" notifications show information as it came in.
But in practice, Tiles was a little too dogmatic, and required too much time and gesture work. Notifications would have appeared in 2012, in Windows 8, but just missed the deadline. Microsoft has implemented it similarly to iOS. There's little point in being different for difference's sake, they reasoned.
Notifications are combined with shortcuts into a new "Action Center". Here's what it looks like: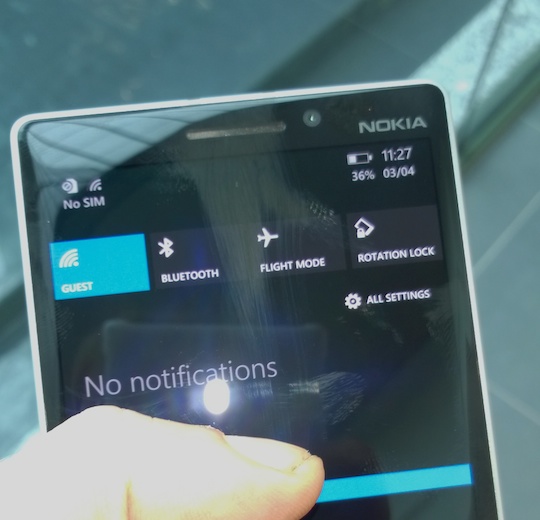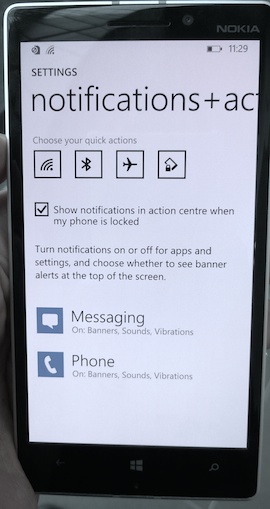 Very iOS-like notifications. You can opt to pull down the panel when the screen is locked, if you're a trusting type.
Sponsored: What next after Netezza?