Italy has a clumsy new pirate-choker law. But can anyone do better?
Vado a bordo,
cazzo

gratuitomane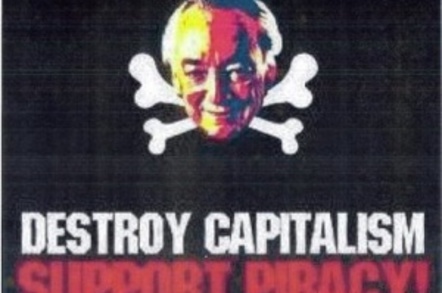 +Analysis New technology means anyone can now create and distribute their creative works, like photos or music, like never before – but, in turn, it also means that anyone can now rip off creators. And yesterday, a range of speakers – from Google to legal experts to enforcement teams – met at the London HQ of law firm Bristows for an update on the state of play across Europe.
Attendees at the IPKat event heard about Hadopi, the UK's pioneering new Copyright Hub, and a row between Google and the music industry.
But one you won't have heard of is the new Italian piracy law, which came into force on Tuesday, which had not been debated outside Italy before.
The state of play today for creators' rights
Despite your automatic, exclusive right to control copies of your works being enshrined in international laws and treaties, it's all a bit meaningless if you can't enforce those rights.
As millions of users discovered when Instagram (and the UK government) tried to pull a fast one, strong copyright is there to protect you against the Big Guy.
This perspective has been the most significant change in the debate in the past few years, along with the intervention of independent artists like David Lowery - who have seen a glimpse of the digital future and baulk at being bullied into accepting it. It's no longer "Big Tech [good] vs Big Media [bad]", but the rights of the individual up against a whole spectrum of rip-off merchants. Think white hats, black hats, and grey hats.
As a creator-of-stuff you are already the lowest link in the food chain. Weaken copyright enforcement, and everyone's profits go up – except yours.
Unfortunately, the politicians and the political class have yet to catch up.
The buck has to stop somewhere, or the rights are meaningless. Yet getting digital copyright enforcement right is notoriously difficult. All of us can cite music CDs packed with exploding rootkits, and the random targeting of file sharers by major record labels, regardless of the level of their infringement, which set the debate back a decade. It pretty much guarantees a flame war.
Attenzioni! That new Italian piracy law...
The new Italian piracy law, which came into force earlier this week, was devised by AGCOM, or the Autorità per le Garanzie nelle Comunicazioni: Italy's version of Ofcom. And if you're an ISP or publisher who has ever grumbled about the DMCA or the Digital Economy Act, you should have a look.
Under new AGCOM regulations, explained lawyer Alberto Bellan, if a website or ISP is making a work available without a licence, a rights-holder (or their representative) can file a takedown request. The publisher or provider has three days to appeal. If they don't hear from the provider, they can disable the website, if it is judged to be committing "massive infringement." A panel of regulators makes the decision. It's 12 days from complaint to removal. Fastissimo enforcement, or what?
Whether the AGCOM code survives is another question. There's no judicial review; it most likely violates the EU e-commerce directive. It's probably a matter of time before it's subject to legal challenge.
This approach leaves end users alone, but targets the Italian freetards who provide access. There are other approaches, and we heard about those too.
Remember Hadopi?
In 2007 France went for a complex bureaucratic apparatus called Hadopi. This was a graduated response scheme - warnings escalating into sanctions - focusing on end users. It had sent out millions of letters, and driven millions of users to free services like Deezer. There's some evidence paid downloads increased. BitTorrent use dropped 20 per cent - but it isn't clear how many migrated to cyberlockers. What is clear is that very few pirates are heroic enough to get cut off.
With the election of the more pirate-friendly socialists, a study, the "Rapport Lescure", recommended targeting access providers, such as AGCOM, rather than end users, and cut off most of Hadopi's funding. Last year, a portion of Hadopi was declared unconstitutional. Its fate will be decided by a bill ("Loi sur la Creation") currently in draft, as Brigitte Lindner of barristers' chambers Serle Court explained.
The USA and Ireland have opted for voluntary agreements between ISPs and rights holders, rather than codes and regulations enshrined in law. The UK attempted to have voluntary agreements in 2007, ended up with legislation in 2010, and now it might have voluntary codes again - as the Digital Economy Act was successfully driven into a ditch by the side of the road, first by litigation, then by Ofcom.
In each case ISPs promise to slap the worst offenders, who, after a sequence of challenges and defences, don't change their behaviour. In the USA this is called VCap (voluntary copyright alert program), and over there it's a six stage process which ultimately involves an internet slow down. VCap involves the five biggest US fixed line ISPs.
In Ireland, there's a private agreement between rights holders that takes three stages, and involves just one fixed-line ISP, Eircom, who is Ireland's biggest ISP. It ends in the contract being cancelled - but unlike Hadopi, there's no National Freetard Registry - you can join another ISP.
The Irish experience mirrors the French one. Over the first 18 months while it was in effect, 29,000 letters were sent out, but far fewer got penalties. 100 users got a one week suspension, and only ten were cut off.
Lawyer Tom Ohta suggested that VCap might succeed where Hadopi had failed. Last week Culture Minister Ed Vaizey suggested in February that a UK VCap might be in place (see column 370WH onwards) by the end of the year:
The Government have not resiled* from it, but there are significant technical obstacles, including the fact that we were being sued by BT and TalkTalk for at least two years from the time when it was passed. Other technical obstacles have presented themselves, and we are actively seeking to overcome them, but nevertheless we welcome the industry initiative, not only because we hope it may be up and running before the end of the year, but because it requires a partnership between both sides of the debate, and because it brings important flexibility to make it possible to adapt. I suspect that it will be easier to adapt the system as technology changes.