MySQL daddy Monty talks up Fusion-io's data-stuffed flash
Compressed tech's 'astounding' (on MariaDB, natch)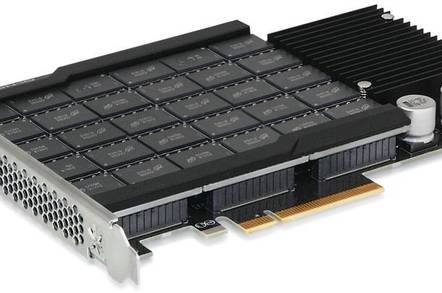 Fusion-io can cram more data into its ioMemory flash storage without cramping performance – at least that's what it's claiming about its NVM Compression technology.
We are told NVM Compression is "a flash-aware interface that can double the useable capacity of ioMemory flash while eliminating the performance impact associated with disk-era compression algorithms commonly used with flash SSDs."
If it is "integrated with the Atomic Writes interface, NVM Compression also delivers 4x more flash endurance by streamlining commands to optimise MySQL databases for persistent flash memory architectures."
The MariaDB Foundation announced the general availability of MariaDB 10 on 31 March and it is "many times faster than previous generations of MariaDB and especially legacy database MySQL thanks to new features including parallel replication and a further advanced group commit."
An effective capacity doubling was achieved using NVM Compression with MariaDB and MySQL. Michael "Monty" Widenius, the creator of MySQL and MariaDB, was pleased: "The results MariaDB saw in testing NVM Compression were astounding, and it's very exciting to deliver new innovation in flash-aware MySQL performance with Fusion-io."
NVM Compression will also boost usable flash memory capacity by up to 50 per cent in MySQL databases from Oracle, Percona and SkySQL.
Fewer writes, faster execution
Fusion-io claims NVM Compression reduces undesirable write amplification and testing of longer workloads "demonstrated that the MySQL database featuring NVM Compression became even faster than the traditional uncompressed database." Fewer writes means faster overall execution.
Happy bunny Peter Zaitsev, Percona's CEO and co-founder, provided a quote for Fusion-io's announcement: "We integrated both the flash-aware NVM Compression interface and Atomic Writes into Percona Server to ensure maximum capacity as well as maximum performance ... We see this as enabling Percona Server users to enjoy lower total ownership costs and enhanced performance."
The Fusion-io pitch is that it's only because its flash is used as a memory tier that this non-performance limiting and even performance-boosting compression is possible: it can't be done with SSDs.
Here's Fusion-io's CTO Pankaj Mehra on that topic: "The value of enterprise flash memory is maximised as a memory tier that enables unique optimisations for cloud computing, big data, in-memory databases and high volume transactions."
Fusion-io wants developers to know that NVM Compression allows them "to quickly introduce flash-aware compression to their applications using versatile workload-optimised compression algorithms."
Fusion-io needs to get app developers on board and using its PCIe flash rather than, for example, flash cards from LSI, Micron and others. Delivering APIs to make their software run faster on Fusion's flash should be an effective way of doing that.
The NVM Compression and Atomic Writes interfaces are now in early access testing in MariaDB 10, Percona 5.6 and Oracle MySQL 5.7.4 DMR (for Atomic Writes) and a labs release for NVM Compression. The NVM Compression interface is being shown at the Percona Live MySQL conference, taking place now (1 to 4 April 2014). You can visit Fusion-io in booth 200 if you manage to get down to the Santa Clara venue. ®
Sponsored: Detecting cyber attacks as a small to medium business