Apple: You're a copycat! Samsung: This is really about Google, isn't it?
New Apple v Sammy trial kicks off with the same old arguments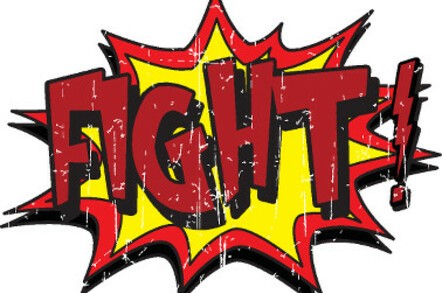 It was déjà vu all over again in a California court yesterday as Apple and Samsung rehashed the same old arguments in a new patent trial, with the odd twist.
Apple once more kicked off with its allegations that Samsung had deliberately "copied" its iPhone, because the Jesus mobe was such a game-changer.
"The introduction of the iPhone literally changed how we interact with the phone," said Apple lead attorney Harold McElhinny, according to the Wall Street Journal. "Samsung recognised that it simply did not have a product that could compete successfully against the iPhone... They chose to use our inventions because they believed that those inventions were fundamental to success."
The tactic is the same one that won the fruity firm a billion-dollar damages award in the previous trial, which Samsung is in the process of appealing, so it's no surprise that Apple stuck to the script. Samsung, however, appears to be trying out a new approach: dragging Google into it.
Sammy's defence is that the devices in question and the patents Apple argues are being infringed are to do with Android, not its own hardware, and Google was working on its operating system before the iPhone arrived on the scene. The Korean firm's legal team said it was Google that Apple was warring with because of sour grapes over how well the Android ecosystem is doing in the market.
"What this case is really about is Apple trying to limit consumer choice and to limit the advantage of its main competitor, Google's Android," said Samsung attorney John Quinn, according to the LA Times. "It's trying to gain from you in this courtroom what it's lost in the marketplace."
The lawyer also brought up the much-quoted words of Steve Jobs, who told Apple staffers to wage a "holy war" against Google, describing an email from October 2010 that stated one of the company's goals should be to "catch up to Google" on Android and cloud capabilities.
Samsung drew attention to the huge payout of $2bn Apple wants for the five patents it is asserting, including its well-known slide-to-unlock feature.
"That is a gross, gross exaggeration and an insult to your intelligence," the Journal reported Quinn as saying. "We will prove to you that they vastly overrated the scope of those patent claims."
Apple's first witness Phil Schiller, senior veep of product marketing, gave more or less the same testimony as last time round, describing how shocked he was when he saw the similarities between Samsung's smartphones and the iPhone. But in cross-examination from Sammy attorney William Price, he said he wasn't familiar with the specific patent claims of this case, Reuters reported.
Samsung has seven potential witnesses from Google on its list, including former head of mobile Andy Rubin, who are expected to be called to testify that Choc Factory engineers were beavering away on Android before Apple got its patents in.
The Galaxy-making firm is also likely to argue that the patents in question are for relatively minor features that wouldn't influence a customer's choice of which phone to buy. ®