Georgia Tech touts polymer heatsink interface
Nanofibres survive 200°C temps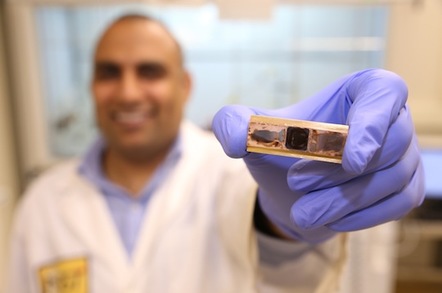 Researchers at Georgia Tech say they've created a polymer that can improve the interface between silicon and heatsinks, and offers a long lifetime in terms of heating and cooling cycles.
In this release, the group led by assistant professor Baratunde Cola says they've created a polymer that operates as a heat conductor (rather than being an insulator, which is more normal for polymers), and can stand temperatures of up to 200°C.
It's also suitable for being fabricated onto devices like heatsinks, with good adhesion to surfaces, they say.
As IEEE Spectrum notes, once heat is drawn away from a device like a chip, dissipating it is most commonly a matter of getting enough cool air blown across the heatsink. That puts a premium on finding ways to better couple the device to the heatsink.
To turn a polymer into a heat conductor, the Georgia Tech release says, the researchers used an electropolymerisation process to create aligned nanofibres in the polymer, rather than the disordered state typical of polymers.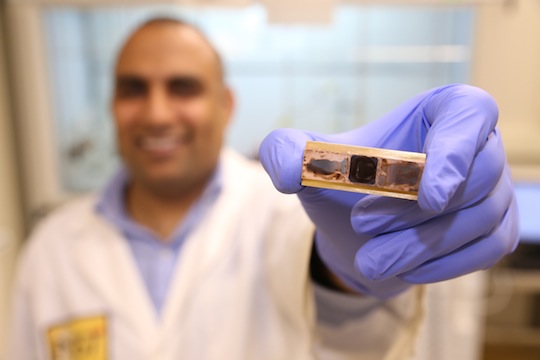 Georgia Tech researcher Virendra Singh holding a test sample. Image: Candler Hobbs, Georgia Tech
This, however, leaves another obstacle to overcome: the crystalline structures that make the resulting polymers better heat conductors can also make them more brittle.
"The new interface material is produced from a conjugated polymer, polythiophene, in which aligned polymer chains in nanofibers facilitate the transfer of phonons – but without the brittleness associated with crystalline structures," the release says. "Formation of the nanofibers produces an amorphous material with thermal conductivity of up to 4.4 watts per meter Kelvin at room temperature."
To fabricate the material, the researchers covered an aluminium template containing tiny pores with an electrolyte containing "monomer precursors". These were formed into hollow nanofibres by applying a voltage to the template. The electropolymerisation process then cross-links the nonfibres.
Either water or an adhesive can then be used to apply the resulting material to the target device.
"The new material could allow reliable thermal interfaces as thin as three microns – compared to as much as 50 to 75 microns with conventional material", the release states.
Their work is published in Nature Nanotechnology, abstract here. ®