BT merges iNet and Engage IT divisions under one roof
Grabs Plusnet CEO, dangles redundo carrot to lure staff out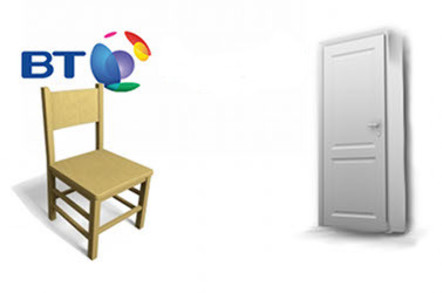 BT has slapped together the IT Engage and iNet businesses from today, April Fools' Day, but the move is no laughing matter for staff put at risk of redundancy.
The telco had merged the dabs, Business Direct and Engage IT operations back in 2011, plonking long-serving exec John Thornhill into the boss seat to oversee integration.
The Cisco Gold badged partner iNet was kept distinct from the borged threesome, even though it shared some of the same customers as the others.
But BT confirmed to The Channel that it had decided to bring all IT services businesses together under one roof.
"The development of BT Business and BT Consumer reporting as two separate business divisions and no longer as BT Retail has given us the opportunity to review our business model.
"In the IT services area of BT Business, Jamie Ford, former CEO of Plusnet, has been appointed MD. Under Jamie's leadership we have decided to bring together iNet and Engage IT as of 1 April," the spokeswoman told us.
Rich Lowe, who replaced Thornhill when he left in the summer of 2012 after less than a year as MD of Engage IT biz, becomes CEO of the iNet and Engage IT.
iNet and Engage IT employs around 1,200 staff and there will be obvious cost savings that parent BT can wring from the businesses in areas such as back office duplication.
"Staff have been informed and there is a consultation period underway," the spokeswoman told us.
Sources close to the situation reckon BT was looking for 40 staff to take voluntary redundancy under very attractive terms, and approximately 37 have "put their hands up".
BT refused to comment further including on the question of voluntary redundancies. ®
Sponsored: Becoming a Pragmatic Security Leader