Selfies are over: Welcome to the age of 'Sleeveface'
Take one vinyl record and add perspective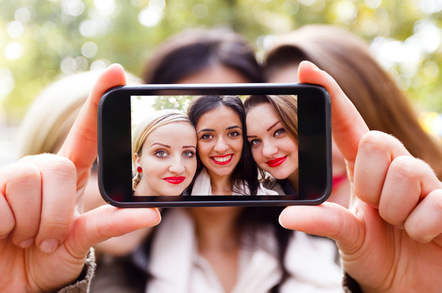 When "selfie" made it into the Oxford English Dictionary, and was then anointed word of the year, it was clear that selfies themselves were kind of a big deal in 2013.
As a forward-looking organisation, The Reg is always looking for the next trivial big thing and is willing to tip that 2014 will see the rise, rise, and crass over-use of … "Sleeveface".
We're making this prediction because sleeveface is the perfect intersection of narcissistic selfiedom and hipster vinyl revival.
Here's how sleeveface works.
Step 1: find an old vinyl record, preferably one featuring the artist's face as the dominant visual motif.
Step 2: Pose yourself so the artist's face obscures your own.
Step 3: Further pose yourself so that your body extends and/or ironically contrasts the artist's face.
Step 4: Profits! Publish and bask in cleverness and virality.
There is, inevitably, an app for that and one for Android too. There's an eponymous site and flickr pool, too.
There's even this instructional video showing off some decent examples of sleeveface.
Surely all that stands between sleeveface and world domination is approval from lexicographers. Those boffins last made their pronouncements in August. We await their decision for this year. ®