New Sammy patent trial: Apple seeks $40 PER 'infringing' handset
Korean firm expected to call in Google engineers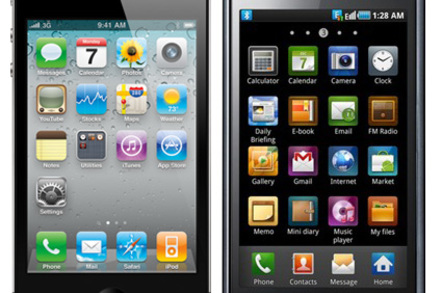 Apple and Samsung are due to open up a new front in their epic patent war in the US today, with the fruity firm seeking an astonishing $40 per infringing device and Samsung planning to get Google engineers in to defend its case.
Apple is claiming that 10 Sammy devices, including the popular Galaxy SIII, infringe on five of its patents, covering tech like the famous slide-to-unlock feature, auto-spelling corrections and highlighting phone numbers directly from emails and web pages for easy dialing. Samsung is arguing that four of the five patents, excluding slide-to-unlock, were licensed from Google as part of its Android OS and that the Chocolate Factory was working on its tech before Apple filed its patents.
The warring tech firms will be facing off in the same courtroom where a jury awarded Apple $1.05bn in damages in a case that's still being argued over in appeals, but this time the fruity firm is asserting its claims on much more recent models of Sammy devices and asking for a lot more in damages - $2bn. A Cupertino win could secure bans that would actually hit Samsung where it hurts on devices that are still selling well.
But commentators are already saying that Apple's $40 per device is pretty excessive. There are hundreds of thousands of patents at work in mobile devices and while some are more valuable than others, it's going to be tough to argue that a mere five patents should entitle a firm to such a high percentage of a smartphone's price tag. Given that high-end smartphones are typically introduced at around the $300 mark, $40 would be a whopping 13 per cent cut.
"When you have a case where a party comes in with a handful of patents and says, these are the really important ones, these are the patents that are worth several dollars apiece per phone - from a simple economic standpoint, that doesn't make a lot of sense," Brian J Love, a law professor at Santa Clara University told the New York Times.
Samsung is expected to call Google employees in to testify that they were working on the Android tech before Apple got its patents in, with Google's former head of mobile Andy Rubin listed as a potential witness.
The Korean chaebol has also brought counterclaims of its own on two patents, alleging that Apple's FaceTime infringes on a video-compressing patent and its devices also infringe on a patent relating to organising and retrieving digital images.
In contrast to Apple's billion-dollar damages request, Sammy is only looking for $7m for the infringements, likely in an attempt to make Apple's request look ridiculously extravagant. ®
Sponsored: Practical tips for Office 365 tenant-to-tenant migration