Tesla firms hot bottoms: TITANIUM armor now bolted to Model S e-cars
Modifications revealed as US safety probes clears 'leccy motor as safe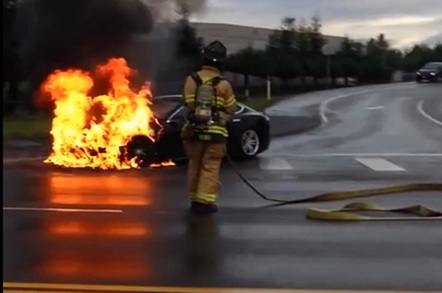 Tesla is adding a three-level shield of aluminum and titanium to the underside of its Model S e-car to eliminate the possibility of battery blazes and placate US safety authorities.
In separate accidents, two of the electric rides burst into flames shortly after running over debris in the road: in each case, whatever they hit punctured the battery compartment and sparked a fire. The drivers escaped uninjured, but it reaped Tesla heaps of bad press, and prompted the US National Highway Traffic Safety Administration (NHTSA) to take a look at the 'leccy vehicles.
In a blog post published today, Tesla CEO Elon Musk said his firm is adding an aluminum bar to the front underside of the car to either deflect objects, or force them up into the bodywork away from the batteries.
The second protective add-on is, we're told, a titanium plate to shield the battery compartment's underside, and Tesla is also adding an aluminum deflection plate so that if the object being run over is exceptionally solid, the car will ride up over it.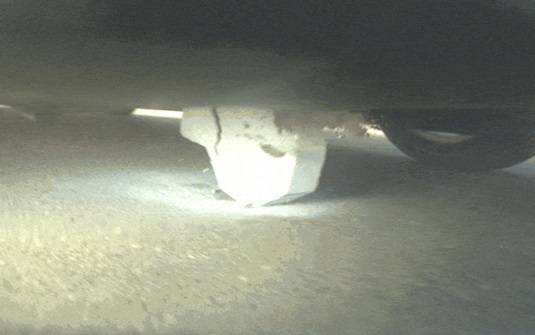 Tesla's new armor crushes concrete with ease
"The underbody shields are not needed for a high level of safety," said Musk.
"However, there is significant value to minimizing owner inconvenience in the event of an impact and addressing any lingering public misperception about electric vehicle safety. With a track record of zero deaths or serious, permanent injuries since our vehicles went into production six years ago, there is no safer car on the road than a Tesla."
All Tesla models manufactured after March 6 will have the new armor, and existing cars will be retrofitted free of charge at their next scheduled service. Tesla has also pushed out a software update to make its vehicles ride higher when driving at speed on the freeway.
The changes won't otherwise make much of a difference to the car, Musk said. Tesla engineers estimate the extra weight will cost 0.1 per cent of the car's range and won't change the handling or cornering of the Model S.
But they have made a difference to the attitude of the NHTSA. In its report into the two Tesla fires, the agency said that in both cases the vehicle was able to travel a mile or so after impact and the car's electronic management system warned both drivers to get out of the vehicle well before a fire broke out.
"Tesla's revision of vehicle ride height and addition of increased underbody protection should reduce both the frequency of underbody strikes and the resultant fire risk. A defect trend has not been identified. Accordingly, the investigation is closed," the NHTSA reported.
Tesla's shares rose 4 per cent on the news. ®