Play Mario using just your EYES as Google Glass gets JavaScript
Someone jostling you in the train? No problem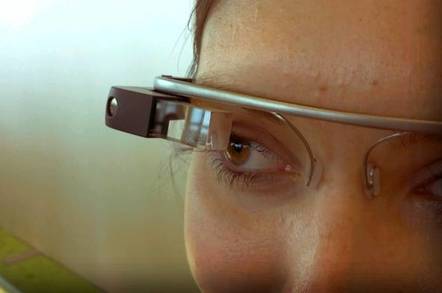 Video There are many reasons to hate Google Glass, ranging from the accusation that it's an evil surveillance device to the perfectly reasonable suggestion it's terribly ugly.
But you might also have been annoyed that it didn't feature JavaScript.
Now at least one of the many concerns about Glass have been resolved because MIT bods have announced an open source project called WearScript, an environment which uses Javascript to interact with various user interface devices or other inputs.
Brandyn White, a PhD student at the University of Maryland, and Scott Greenberg, a MIT PhD student at MIT, unveiled their JavaScript environment at the MIT Media Lab.
They used the Myo Gesture Control Bracelet (video below) to control the Glass display, but also fitted Google's preposterous wearable computer with a camera to detect eye movements. With this in place, they were able to play a quick game of Super Mario using nothing but their eyes.
The team behind Wearscript said it can also be used with devices like the Pebble Smartwatch and is also useful for augmented reality applications.
Wearscript is open source and is currently hosted on Github.
Designer Marc Newson recently said that wearing Google Glass makes you look even more ridiculous than riding a Segway.
He said: "It's a little bit like that wonderful invention called the Segway. It's such a fantastic piece of technology but you just look like a complete dick when you drive around on it ... That's where the bridge to the world of fashion really doesn't, or didn't, work. That's precisely the moment when I think the fashion world laughs at the world of industrial design, justifiably.
"What Google have done thus far, I wouldn't be seen dead wearing. It looks pretty stupid." ®