Drobo: Our Q4 numbers were not that NASty
Shows off 4-bay unit as it boasts of comeback sales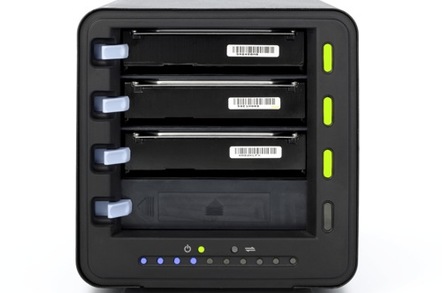 Glossy storage boxen flinger Drobo has "adjusted" its prices and snuggled up to partners and says it is experiencing a resurgent demand for its products. A new 4-bay product should benefit from that.
Drobo founder Geoff Barrall returned to the helm at Drobo when his ConnectedData startup merged with Drobo in May 2013.
While customers had liked its easy-to-use data robot desktop storage devices with self-population of disks, included data protection and sleek design, the gadgets were a little expensive.
Additionally, with a move to sell more business Drobos, including rackmount products, the original resellers were feeling unloved and under-valued.
Barrall then recruited Jillian Mansolf from Overland Storage (she had been at Drobo before Overland) to run the Drobo channel operation and she's reset the channel relationship, opening lines of communications to partners who were feeling ignored.
The pricing was adjusted downwards, Drobo always having been tagged as an expensive option, and the roadmap reinvigorated as well. In effect the founding management team has returned to Drobo and instigated a bit of a makeover.
The results have been satisfying, with the 300,000 shipped unit mark passed - 120,000 Gen1 and Gen2 customers are still using their Drobo's - a total of 50,000 customers, and shipments in the fourth quarter being twice that in the previous quarter. There was a 150 per cent increase in the iSCSI/hybrid Drobo product area over that period as well.
What's more, Barrall says, "We think we were the highest seller of NAS by volume in the fourth quarter of 2013."
More than 10,000 Drobo NAS units were sold. Mansolf claimed the momentum was continuing: "We have [already] booked more in January and February than we did in the fourth quarter."
Drobo is hiring "in all areas of the business" and a new Drobo is being announced, the third generation one, which is a faster 4-bay desktop, courtesy of a better processor, more memory and USB 3.0 connectivity. Apple Time Machine support is now present - you can create a fixed amount of space for Time Machine backups - and there is protection against one and two drive failures.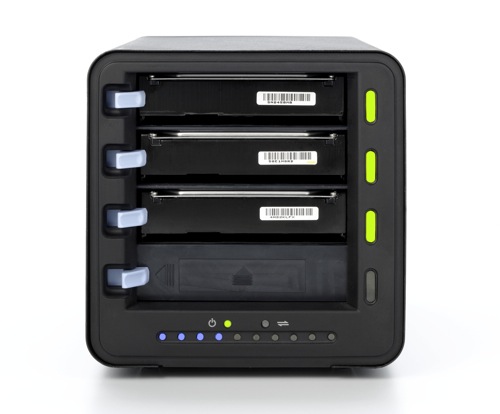 Drobo desktop 4-bay
If 6TB HDS He6 disk drives are used to populate the bays then the maximum capacity will be 24TB. However the He6 costs $729 at Amazon, an eye-watering $121.5/TB price." Still, if you need the capacity....
A Drobo Customer Loyalty deal gives current customers a good upgrade path to this Gen3 Drobo - buy one at $50 off list and populate it with your existing drives.
Additionally the desktop Drobo 5n NAS has more third-party apps coming soon. Connected Data has opened up its Transporter product "to third party applications, meaning app developers can integrate their products into the Transporter environment." Connected Data is working with:
hopTo: mobile productivity platform for smartphones and tablets
PDFPen by Smile Software: PDF editing app for Mac, iPad, and iPhone
PrintCentral by EuroSmartz: app for printing directly from iOS devices to any printer
Scanner Pro by Readdle: transforms iOS devices into portable scanners
Trial Pad by Lit Software: legal document management and presentation tool for iPad
Manufacturer's suggested retail pricing (MSRP) is for the gen3 desktop Drobo is $349 for the empty box, $599 for 4TB, $749 for 8TB and $1,449 for 16TB. ®