Original iPhone dev team was 'shockingly small' - Apple engineer
Yet micromanaging Jobs steered them to worldwide mobe DOMINATION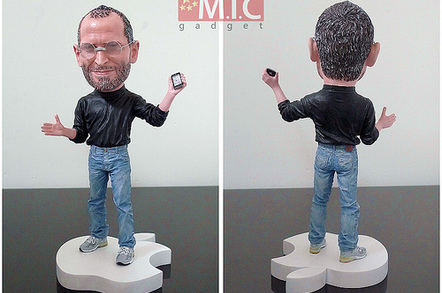 A former Apple engineer has revealed key details of the process behind the design of the iPhone.
In a rare interview, senior software engineer Greg Christie described a frenzied creative process and hinted that Steve Jobs was the boss from hell.
Jobs approached Christie and his team to asked them to get involved in a top secret fruity project called "purple".
But after growing frustrated with the less than warpspeed pace of development, the fruity führer said they had two weeks left to figure out how the software and hardware would work together, or another team would be given the task.
"Steve had pretty much had it," said Christie, who now lead the user interface team at Apple "He wanted bigger ideas and bigger concepts."
After taming the savage Steve, Christie's team then went on to dream up many familiar facets of the iPhone, including the swipe-to-unlock gesture, the cover flow method of viewing images, the address book and most importantly, the touch screen itself.
The team "banged their head against the wall" trying to master the iPhone, with the terrifying Jobsworth watching their every move.
Originally, the iPhone was going to feature a split screen, but Jobs didn't want his baby to be a Jekyll and Hyde-phone, so the idea was canned.
"Steve thought it was foolish to do a split screen on such a small display," Christie added.
The obsessive Apple godhead checked every detail with "boundless excitement" and utmost secrecy. Employees working from home were told to use their computer away from prying eyes, while cleaners were banned from the office the iPhone team were working in.
In a phrase that mirrors the endless discussion of Max Clifford's penis, the Apple man revealed the iPhone team was "shockingly small".
Christie's time in the fruity spotlight may only be beginning, as he is expected to give evidence in the next round of an interminable patent battle between Apple and Samsung, which will start again next week. ®
Sponsored: What next after Netezza?