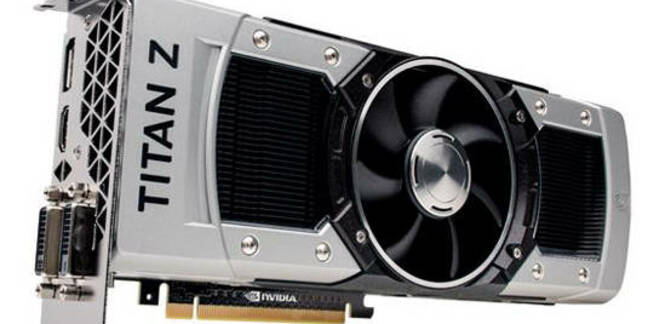 GTC Nvidia has released its most powerful – and, in our memory at least, its most expensive – GeForce graphics card ever, the GTX Titan Z, which you can have for a hefty $2,999.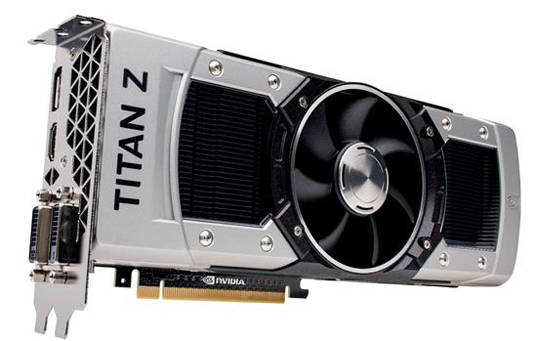 Five thousand, seven hundred and sixty CUDA cores of 'cool and quiet' GPU power
That's not such a high price, said Nvidia CEO and cofounder Jen-Hsun Huang during his keynote at the GPU Technology Conference (GTC) in San José, California, on Tuesday. After all, it's "about fifty cents a processor."
The GTX Titan Z is the company's follow-on to the GTX Titan released in February 2013 – or, more specifically, to the GTX Titan Black released last month. Like the Titan Black, the Titan Z is powered by Nvidia's top-of-the-line GK110 [PDF] Kepler GPU, which Nvidia modestly touts as "the fastest, most efficient HPC architecture ever built."
The difference between the two is simple – but striking. Titan Z doubles the Titan Black's 2,800-core GK110s to a total of 5,760 CUDA cores, doubles the memory to 12GB, and doubles – as you might imagine – the memory bus width to two 384-bit channels.
Nvidia spokesman Bryan Del Rizzo told us that the clock speed for the Titan Z has not yet been finalized, but both GPUs will run at the same rate, and will benefit from the same boost frequencies.
AnandTech estimates, however, that the Titan Z's advertised eight teraFLOPS performance for single precision (32-bit) floating point seems to indicate that each of the GK110s will likely run at a base rate of around 700MHz, well below the 889MHz of the Titan Black, which boosts to 980MHz.
Del Rizzo also told us one reason why the Titan Z's clock and boost rates have not yet been finalized: Nvidia engineers are still working to balance performance, power, and environmental factors to ensure that, as a company blog post says, the Titan Z is a "card that is cool and quiet, rather than hot and loud."
One thing that the Titan Z doesn't double when compared to Titan Black is price – it's instead tripled from the Titan Black's $999 to, as we mentioned above, a cool $2,999. That price indicates that one of its primary target markets is high-performance computing rather than gaming – although since it's a GeForce card, if you want it to play Crysis, knock yourself out.
But "if you're in desperate need of a supercomputer," as Huang put it, "and you need one really close by and handy, and you want it to sit next to your desk, we have just the friend for you."
Huang noted that when Nvidia put the original Titan on the market, they really didn't know exactly what its market was going to be – or, for that matter, whether it would find a market. "Surprisingly," he said, "it's just selling like hotcakes."
But those hotcakes are going in large part to researchers writing CUDA code. "And the reason for that is that this is a supercomputer you could buy at retail," Huang said.
The Titan Z is scheduled for release sometime next month, and we should have more specifics on such matters as clock speeds and power requirements before that as-yet-unspecified date. ®
Sponsored: How to simplify data protection on Amazon Web Services