Tornado-chasing stealth Batmobile set to invade killer vortices
The Iowa Storm Chasing Network's 'Dorothy' seeks twisters, data, and adrenaline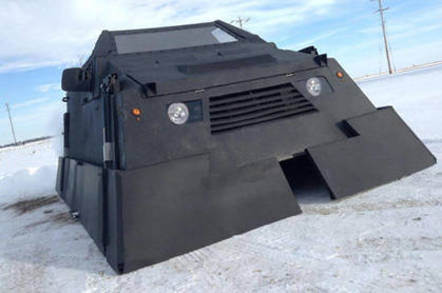 A pair of intrepid 20-year-old Iowans have constructed a tornado-chasing vehicle that looks for all the world like a cross between a Stryker M1126 ICV, F-117 Nightwhawk, and a Ford E-350 van.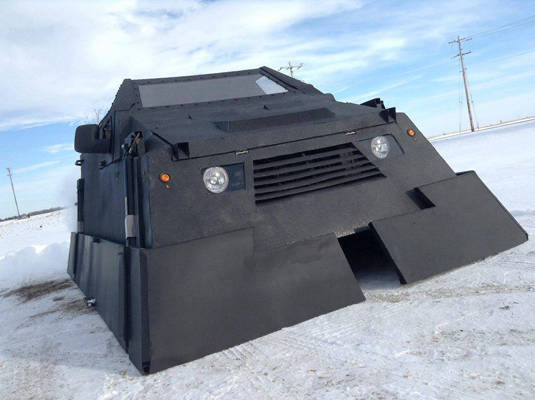 Armored, equipped, aerodynamically and aesthetically enhanced – Dorothy awaits her first twister
The similarity to that last one may seem a bit tenuous, but that is the actual vehicle that Brennan Jontz and Dan Auel converted into the tornado-chaser that they've named – what else? – Dorothy.
The dynamic duo took the 12-passenger van, which is equipped with a 255 horsepower 5.4L V8, chopped its top, covered it with steel plates, and coated those plates with an eighth-inch-thick coating of Line-X, a rubberized coating that will "stop a 9mm bullet," said Jontz.
That precaution seems a wise one, seeing is how their goal is to drive Dorothy into a tornado – a violent storm that, as Iowans, they may very well have the share of opportunities to visit soon.
As pointed out in a newscast about the vehicle by Des Moines, Iowa's KCCI, it's now spring, and with the change in seasons comes the onset of tornado season.
Dorothy was built for the Iowa Storm Chasing Network, a group of guys – why is it always guys? – who attempt to get as close as they can to tornadoes to gather data on them. And, we can only assume, to get a bit of an adrenaline rush, as well.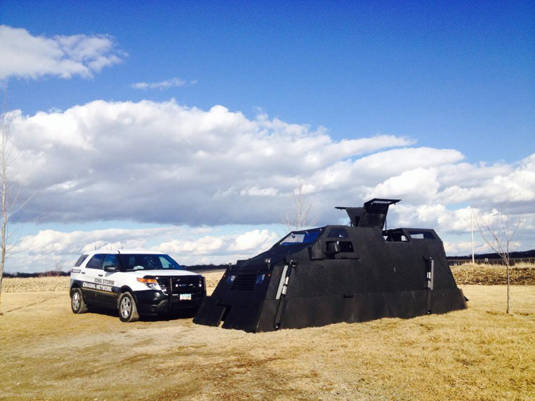 In which of these two Iowa Storm Chasing Network vehicles would you prefer to face an EF5 tornado?
"Once you get in a tornado, all you see is debris flying around so the main goal is to get close, get slow motion video of the tornado, slow it down and analyze the data," Dorothy's navigator, meteorology student Zach Sharpe, told KCCI.
One of the more interesting aspects of Dorothy – in addition to its steel armor, half-inch military-grade polycarbonate windows, and live-streaming cameras – is that some of the steel plates lower to the ground to protect tires and, more importantly, prevent her from being flipped into the air by the tornado's vicious, swirling winds.
At least that's what Jontz, Auel, and Sharpe hope – Dorothy has yet to be tested in meteorological combat. "At first, there would be some nerves going close to the storm, but I think we'd be all right," said Sharpe.
We shall see. Although according to NOAA, last year was a rather quiet one for Iowan tornadoes, as every investor knows – including those who invest in futuristic tornado-chasing vehicles – past performance is no guarantee of future results. ®
Sponsored: Detecting cyber attacks as a small to medium business