Ex-Amazon brain, ex-Cisco bigwig eager to smash lock to networking throne room
Cumulus Networks, Midokura versus the world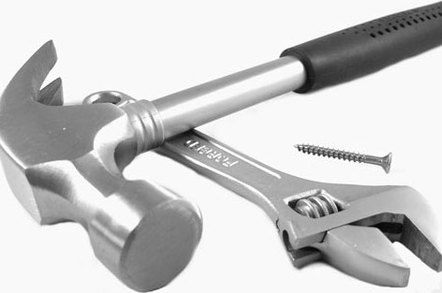 In another indication of changes in the networking market, two startups are teaming up to give companies greater choice in the tech they want to use to lash together their computers, threatening the businesses of incumbents like Cisco.
The tie-up between Cumulus Networks and Midokura was announced on Wednesday and will see a company run by a former Cisco bigwig that specializes in a Linux-based "networking operating system" and commodity switch technology, team up with a network virtualization outfit – whose chief engineer, Giuseppe 'Pino' DeCandia, helped design Amazon Web Services' distributed Dynamo system.
The alliance will see Midokura use a component of Cumulus's technology to configure its network overlay. In theory, this should reduce the configuration overhead of loading the company's tech on top of Cumulus Linux. In practice, it means Midokura is using Cumulus's Open vSwitch Data Base (OVSDB) agent for configuration of some of its overlay features.
In the future, the company hopes to "use Cumulus as a platform on which to load and run additional code," explained Midokura product manager Dan Conde in a chat with El Reg.
What the partnership also shows is the mammoth changes rippling through the networking industry as companies search for alternatives to the tightly integrated technologies espoused by incumbents like Cisco, Juniper, and Brocade.
Midokura's network overlay technology embeds an agent on hypervisors running on vSwitches which run on the nodes of a network. These agents contain network topology and state information, allowing decisions "to be made independently on each hypervisor," said Conde. Consistency is maintained by a central state repository based on the Cassandra database and Apache Zookeeper which propagates information across the network.
This, Midokura says, gives its network a combination of programmability and resiliency that is hard to find in traditional systems.
With Cumulus switches and a software like Midokura on top, companies can break the stranglehold of lock-in that they suffered before, though at the cost of a greater administrative overhead to deal with the multiple technologies.
"Customers have always and will need to continue to understand what goes on and how things interact, the big difference is that in a world where Midokura and Cumulus live those interfaces are reasonably well exposed... in comparison to a single vendor solution or single vendor blob," explained Cumulus Networks's chief executive J R Rivers.
Ultimately, Midokura expects to have a number of underlying hardware partners it maintains compatible interfaces with, and Cumulus Networks hopes to have the same with a spread of virtualization technologies.
"We like the fact Cumulus has the same beliefs as we do," explained Conde. Another way of putting this is 'my enemy's enemy is my new best friend'.
These new companies believe their technologies are built in such a way that closing them off from others will only damage their own businesses rather than strengthen them. Both are betting this openness will give customers the confidence to switch off traditional networking and enter the buzzing world of "software-defined networking".
"The new networking ecosystem is very much aligned with the compute ecosystem you already know and love in that for better or for worse you have a reasonably loosely coupled set of applications and operating systems and hardware," said Rivers. ®