What have Cherie Blair, Jonathan Porritt and El Reg's mobile desk got in common?
Our Vulture mingles it up with the mildly famous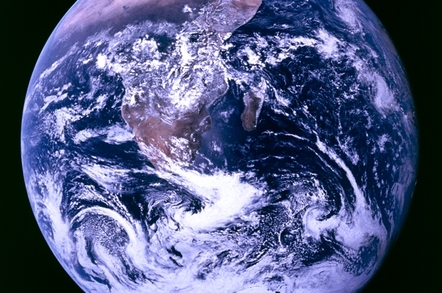 For all the trumpeting of Silicon Roundabout with its app companies and ecosystem start-ups, or northern California with improved user experiences and social media, the real work in mobile gets done here in old Blighty: specifically, on the silicon fens of Cambridge.
Cambridge, as all the world knows, is the home of ARM and CSR, and many other mobile technology companies have a presence there including Qualcomm and Microsoft. Much of the raw technology which makes a mobile phone tick starts its life with a CB postcode. There is a little bit of Cambridge in every phone on the planet.
The 6th Future of Wireless Conference, to be held in the city on June 30th and July 1st, brings together such luminaries as green hardliner Jonathan Porritt, Cherie "wife-of-Tony" Blair and, erm, El Reg's mobile correspondent - that is, me. The topics for the event span a range of ways to tie technology to social good, culminating in the motion "This house believes that emerging economies need technology transfer, not first world products".
Given that the audience is the movers and shakers in the mobile technology business, there is more of an emphasis on what the technology might be used for than on how it works. Talking to people building White Space radio about Shannon isn't going to educate them; explaining how the technology might get used is.
The keynote speakers – including Caroline Costa, the managing director of Orange Innovation – will look at how global forces will shape the planet and what role mobile technology might take in that. It does get a bit more practical, with Shawn Cowell looking at the economic development implications and Professor Simon Saunders looking at the nuts and bolts of providing coverage in hard-to-reach places.
Cherie Blair is the after dinner speaker. She has worked with a lot of mobile technology organisations, particularly those which help to empower women, such as the GSMA's mWomen project. Cherie is also an advisor to Zone V which is building a phone for those with poor or no sight, and the RUDI Sandesha Vyavhar project, and her foundation runs a number of mobile-related projects.
Mr Porritt, one-time official "critical friend" to the government on matters climate-related - one of his more offbeat notions is the idea that economic growth must be abandoned in order to save the world - will be speaking on "Wireless Technology's Role in the Future of the Planet".
<shameless plug>Oh, and I'll be talking about phones for seniors, which is what I do when I'm not sitting at my desk at Vulture Central</shameless plug>.
I once came across the theory that ideas are small creatures that spread from scientist to scientist at conferences by jumping from beard to beard. Given how clean shaven (or, indeed, female) the speakers at the Future of Wireless appear to be from their mugshots on the site, that's unlikely to be case. It is, however, a good place to go to pick up ideas. ®