This record-smashing robot solves a Rubik's Cube in 3.253 seconds
Talk about twisting someone's ARM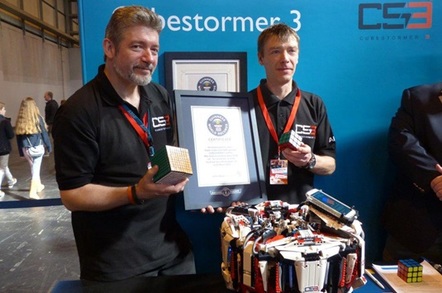 Video Forty years after the invention of the Rubik's Cube, the puzzle that's done more to induce finger injuries in youngsters than any games console, has been cracked at lightning speed by a Lego-built robot controlled by a Samsung S4 smartphone.
The team behind the new Guinness World Record-winning robot consists of David Gilday, a principal engineer at ARM and Mike Dobson, a security systems engineer for Securi-Plex. Their previous Rubik's robot, CubeStormer 2, took the time to solve a randomly mixed cube down to 5.35 seconds in 2011, but the third version of CubeStormer has now cut that down to 3.253 seconds.
"We knew CubeStormer 3 had the potential to beat the existing record but with the robot performing physical operations quicker than the human eye can see there's always an element of risk," said Gilday.
"In the end, the hours we spent perfecting the robot and ensuring its motor and intelligence functions were properly synchronized paid off. Our big challenge now is working out if it's possible to make it go even faster."
The robot uses an eight-core Exynos 5 Octa application processor in a Samsung S4, which packs in four ARM Cortex-A15 and four Cortex-A7 cores to analyze the cube using the phone's camera. ARM9 processors control the eight Lego Mindstorms EV3 bricks that control the four robotic arms used to twist and turn the cube's bricks into the correct position.
"The robot demonstrates just how fast a Samsung Galaxy S4 can think. As well as working out the solution, the ARM-powered Exynos processor has to instruct the robot to carry out the moves," said Gilday.
"This is more complex than it seems because CubeStormer 3 uses a speed cube which allows twists before the sides are fully-aligned. It means the robot is effectively mirroring the same kind of judgement and dexterity that a human speed cuber has to apply."
As in so many human endeavors, machines make our efforts in this field look puny. The fastest human speedcuber is Dutchman Mats Valk, who last year set a time of 5.55 seconds to solve the puzzle. He has another chance to beat his record in August at the next World Cube championships in Roskilde, Denmark. ®
Sponsored: Detecting cyber attacks as a small to medium business