Brit 'naut Major Tim could carry YOUR name into SPAAAAACCEEE
Euro space bods open moniker comp for Blighty astro's first ISS jaunt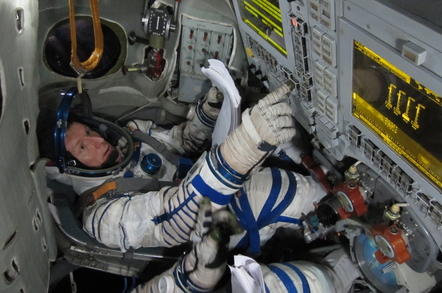 Astronaut Tim Peake needs a name for his next mission, when he'll become the first official British astronaut to head into orbit aboard the International Space Station.
The European Space Agency has launched its usual competition to name an upcoming astronaut's mission, this time for Major Tim's six month stint in the ISS, which is due to launch towards the end of next year.
The competition is open to all citizens or residents of ESA's member states. Entries will need to be short and snappy to grab the space agency's attention. The winning title will be the official mission name and the winner will get a mission patch signed by Major Tim – and a hand in history, of course.
Previous mission name winners have featured ones that reflected the astronaut's nationality or their history, like "Volare", the Italian for "to fly" and named for Luca Parmitano, "Marco Polo" for Italian 'naut Roberto Vittori and Cervantes for Spanish 'naut Pedro Duque's trip. Four previous mission names have included the acronym ISS, such as André Kuipers' "PromISSe" mission and "MagISStra" for Paolo Nespoli's stint on the station.
Entrants also need to be careful that the logo is one that can be pronounced in other European languages, not just in English.
For Peake's mission, competition hopefuls entering on the ESA website could draw inspiration from the David Bowie connection that earned him the nickname Major Tim or submit famous names from British explorers of the past, like mountaineer George Mallory or colonial explorer Dr David Livingstone.
Peake was an Army Air Corps helicopter test pilot and instructor before joining the ESA's astronaut corps in 2009. He'll be blasting off for the ISS as part of Expedition 46/47 and will be the first Brit on the station. ®
Sponsored: Becoming a Pragmatic Security Leader