Elon Musk slams New Jersey governor over Tesla direct sales ban
Claims automotive clique inked 'backroom deal'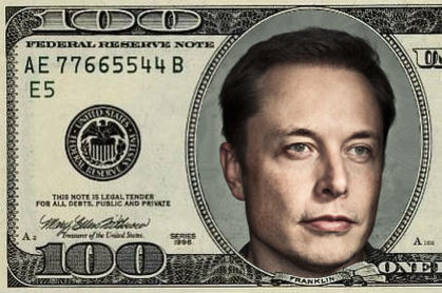 Tesla Motors CEO Elon Musk has taken to the web to address the entire state of New Jersey about what he claims was a "backroom deal" to defeat his company's business model.
Earlier this week, New Jersey became the third US state – after Arizona and Texas – to enact a rule banning auto manufacturers from selling cars directly to customers, rather than selling them through franchise dealerships.
Tesla relies on direct sales exclusively, which means the electric-car maker will no longer be able to sell its vehicles in New Jersey as of April 1 – a development that has Musk fuming.
In a Friday blog post titled "To the People of New Jersey," Musk ascended the digital pulpit to decry the decision, which he sees as government capitulating to the demands of an entrenched business monopoly in a way that is "fundamentally contrary to the intent of the law."
"The evidence is clear: when has an American startup auto company ever succeeded by selling through auto dealers?" Musk wrote. "The last successful American car company was Chrysler, which was founded almost a century ago, and even they went bankrupt a few years ago, along with General Motors."
According to Musk, New Jersey governor Chris Christie had earlier promised to submit the issue to a vote of the state legislature, but reneged under pressure from the automotive industry. In the end, the rule change was made by the New Jersey Motor Vehicle Commission, a body that Musk said is "composed of political appointees of the Governor."
"The rationale given for the regulation change that requires auto companies to sell through dealers is that it ensures 'consumer protection,'" Musk railed in his missive. "If you believe this, Gov. Christie has a bridge closure he wants to sell you! Unless they are referring to the mafia version of 'protection,' this is obviously untrue."
The big automakers and their dealerships see Tesla's all-electric cars as a threat, Musk claims, because their traditional business model is fundamentally reliant on the maintenance requirements of combustion engines.
"There are no oil, spark plug or fuel filter changes, no tune-ups and no smog checks needed for an electric car," Musk wrote. "Also, all Tesla Model S vehicles are capable of over-the-air updates to upgrade the software, just like your phone or computer, so no visit to the service center is required for that either."
Musk went on to cite a number of surveys showing that the majority of customers were well satisfied both with Tesla cars and with the company's sales model.
"Democracy is supposed to reflect the will of the people. When a politician acts in a manner so radically opposed to the will of the people who elected him, the only explanation is that there are other factors at play," Musk wrote.
Musk concluded his address to the New Jersey populace by assuring them that they would still be able to order Tesla cars for delivery from the company's website, even after April 1. Beginning on that date, he said, Tesla's stores in the state would transition to being "galleries," where prospective buyers could learn about the vehicles but staff would be unable to complete sales or even discuss pricing.
In the meantime, Musk said, Tesla is "evaluating judicial remedies to correct the situation." ®
Sponsored: Practical tips for Office 365 tenant-to-tenant migration