Met cops to collar up to £20m of IT gear a year from US giant Insight
Tech touter sees off SCC, Fujitsu and Computacenter for supply contract win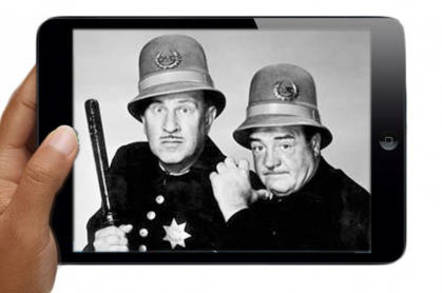 US reseller Insight Enterprises has cut a multi-year deal with London's Metropolitan Police to supply infrastructure kit and software worth up to £20m annually – just as the Sprint ii purchasing framework nears its end of life.
Sprint ii is a cross-public-sector single-supplier agreement won by SCC in April 2010; it made SCC the go-to supplier for Blighty's public-sector IT buyers. A year after the ink had dried, the Home Secretary controversially made the use of Sprint ii mandatory for the entire police service in England and Wales.
The framework – which covers orders for commodity hardware, software and services – expires tomorrow, 15 March. The new contract with Arizona-headquartered Insight kicks off on Monday, multiple sources told us.
The Met put its technology supply contract out to tender using the UK public sector's Commodity IT Hardware & Software (CITHS) procurement vehicle, and invited SCC, Fujitsu, Computacenter and Insight to bid for it.
The four suppliers are the only ones on CITHS that can offer gear that falls into the categories of PCs, server and storage, and software, which is exactly the same tech the capital's fuzz wants covered by the Insight deal.
CITHS itself is set to run out in September: it had been due to close in February, but the government's Crown Commercial Services extended it because replacement frameworks were nowhere near ready for implementation.
Sources tell us the model contract with the Met can run for up to five years, way beyond the expiry of the CITHS framework.
The level of orders is valued at somewhere between £15m to £20m ($25m to $33m) a year, though this is simply the potential maximum spend rather than a fixed requirement.
Forcing Sprint ii on the police forces upset numerous resellers and integrators – call it sour grapes, if you will – which were effectively locked out of supplying IT to the cops. It didn't go down well with some coppers either, including Northamptonshire Police and West Midlands Police Authority (WMPA).
WMPA claimed it found using Sprint ii nearly 13 per cent more expensive than alternative routes, though it later retracted this after the Home Office applied some gentle pressure.
The National Police Industry Association, which defended Sprint ii, said it benchmarked pricing and claimed moving to a single-supplier agreement saved costs by reducing admin staff needed to run procurements.
The Met had said it was setting up its own police procurement company, but sources tell us this never got off the ground because under European law all government business needs to be put out to tender.
Insight refused to comment, and the Met had not replied at the time of writing. ®
Sponsored: Detecting cyber attacks as a small to medium business