YOINK! Toyota reveals – then DENIES – Apple CarPlay by 2015
Dashboard Siri by next year ... only joking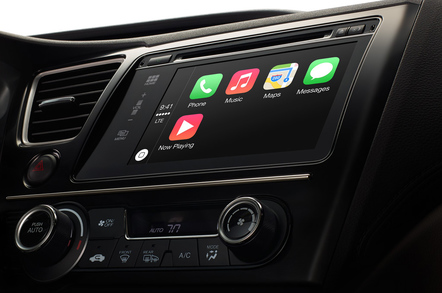 Toyota had a bit of a snafu on its official UK blog today when it appeared to have leaked the release date for Apple's CarPlay in its vehicles as sometime in 2015 in a post that was quickly removed.
In the first version of the post, Toyota was talking up the new "iOS in your car", saying the tech would be able to sync with iPhones and be controlled by touchscreen, Siri or physical buttons on the steering wheel or dashboard.
"Come 2015, you'll be able to get the iPhone experience you love in your Toyota with Apple CarPlay," the post bragged.
However, this morning the post was pulled and replaced with an update that said "no announcements have been made about if and when Apple CarPlay will arrive in Toyota cars". Which was a bit confusing since Toyota has already been confirmed as a partner, so there's no "if" about it, just the when.
Apple announced that the technology was in the pipeline more than a week ago and said it would be working initially with Ferrari, Volvo and Mercedes-Benz. The fruity firm also said that BMW, Ford, GM, Honda, Hyundai, Jaguar, Kia, Nissan, Subaru, Suzuki and Toyota would be partners on the project "down the road" (Apple's pun, not El Reg's).
Only the first three car-makers have made official announcements on CarPlay, giving customers an idea of which models will sport the tech and showing off demos at events like the Geneva Motor Show. ®
Sponsored: Quit your addiction to storage