Fibre fanaticism overrode proper NBN planning says report
Productivity Commission slams lack of cost-benefit analysis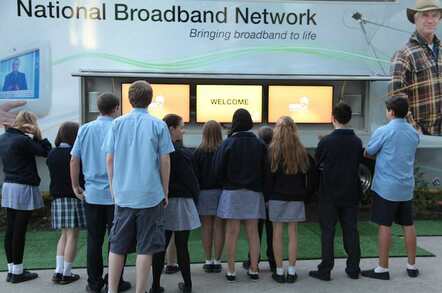 Early planning for Australia's National Broadband Network (NBN) focussed on "how best to implement the government's policy objectives, rather than considering the merits of different options."
So says Australia's Productivity Commission in a draft report (PDF) on the state of the nation's public infrastructure.
The report's theme is that Australia can do much better in its attempts to build infrastructure of any sort. "There are many examples in Australia of inadequate project selection leading to costly outcomes for some users and taxpayers in general," the document says, before going on to mention State government electricity and desalination projects. At the federal level the report offers "... the decision by the previous government to proceed with the National Broadband Network without doing a thorough analysis of its costs and benefits" as its star exhibit.
Why did that happen? The report says "... detailed analysis of the project was focused, from a relatively early stage, on how best to implement the government's policy objectives, rather than considering the merits of different options." That left benefits of the NBN and the appropriateness or otherwise of creating NBN Co unexamined, which the report suggests is a poor way to go about large and expensive infrastructure projects.
The report goes on to say that cost-benefit analyses are terrific ideas that should really be done for any infrastructure project.
The report will doubtless be used to heap more criticism on Australia's previous government, which has copped plenty for other big-ticket projects that were either rorted (school halls sometimes built for more than the going rate, thanks to State bureaucracies and loose federal oversight) dangerous (a home insulation scheme with poor oversight) or seemingly open-ended (stimulus payments intended to give the economy a boost in 2009 still being sent to newly-identified eligible recipients in 2014).
Some of that criticism will be deserved. But it is also worth noting that after insisting on a cost-benefit analysis for the NBN, the current government will build it even if no return on investment can be found.
Some pundits have argued that the original fibre-to-the-premises (FTTP) plan was justifiable because of market failure: plans to build the NBN submitted to government in 2008 were deemed a waste of money, making the FTTP NBN the kind of project economic conservatives could tolerate. Parliamentary Secretary for communications Paul Fletcher recently told The Reg he feels it remains appropriate for government funds to build the NBN, despite its move to a mixed-medium network that is arguably less scalable and long-lived, while also lessening its focus on addressing black spots.
The Reg mentions these factors to point out that not all criticism will be wholly justifiable: Australia's past government did not execute well, but the current government is hardly ideologically pure with regards to this project. Nor is its track record spotless: the viability of the Alice Springs to Darwin railway built during the coalition parties' last term in government was widely questioned before its construction, and turned out to be a white elephant that its owners exited at a substantial loss. ®