Apple pedometer patent filing cranks up the iWatch rumor mill
Prior art? Let's just say that the USPTO has its work cut out for it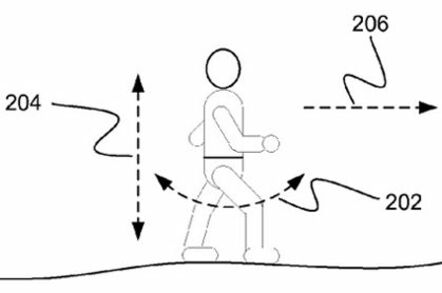 In yet another indication that Apple's oft-rumored iWatch may include biometric features, the US Patent and Trademark Office has published a Cupertinian patent application for a pedometer designed to be worn on the wrist.
United States Patent Application #20140074431, "Wrist Pedometer Step Detection", was published in the USPTO's weekly application release on Thursday, one of an unusually robust collection of 120 filings by Cook & Co., and is an expansion of an earlier patent application, "Techniques for Improved Pedometer Readings", published last April.
The filing describes methods for correctly detecting steps when a pedometer is wrist-mounted, a usage model that makes it more challenging to detect steps than when the pedometer is worn near the user's torso, as is, for example, a Fitbit One or Zip.
"When the pedometer is worn at the wrist the acceleration forces associated with the swinging of the user's arm can interfere or mix with the acceleration forces associated with steps taken by the user," the filing states, reasonably enough.
Wrist-mounted pedometers, of course, are already on the market — Fitbit's Flex*, Jawbone's Up, and Nike's FuelBand SE, for example – and it's unclear exactly how the technology described in application #20140074431 differs from existing devices.

iStroll or iRun with my iPedometer on my iWrist in my iWatch
Perhaps the answer lies in the filing's description of algorithms that combine between-step timing with accelerometer data to guesstimate when a step may have been missed due to the arm-swinging forces interfering with the simple G forces tracked by a torso-mounted pedometer.
Or perhaps it's the features that the filing describes which allow the user to set the device for on-wrist or near-torso use, or for the device to make that determination on its own based on accelerometer data. In addition, the filing describes a method for the pedometer to determine whether the user is walking or running.
We'll leave it to the fine folks at the USPTO to sort that out — or, should they fail to do so, we're certain that the legal teams at Apple, Fitbit, Jawbone, Nike, and others will be more than willing to step in.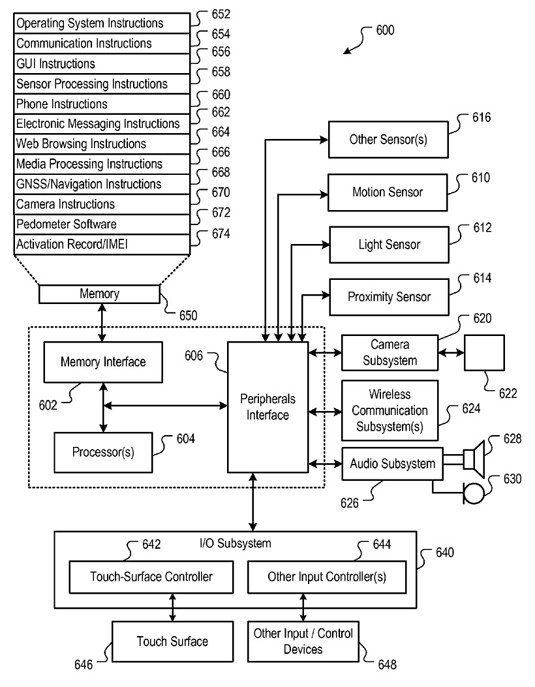 Wearing a fully tricked-out iWatch may result in some nicely pumped-up biceps
In any case, Apple's filing doesn't limit the Wrist Pedometer to merely counting steps. In another hint that it may be part of a larger iWatch effort, Patent Application #20140074431 also covers the incorporation of a broad range of other technology, including – and, of course, this being a patent filing, "not limited to" – data and image processors, memory, light and proximity sensors, GPS, temperature sensors, an unspecified "biometric sensor", a camera – still or video complete with playback, natch – audio-file playing, facial recognition, voice control and authentication, telephony, and more.
All of this geeky goodness could be managed through "one or more buttons, rocker switches, thumb-wheel, infrared port, USB port, and/or a pointer device such as a stylus," the filing suggests, as well as "a plurality of touch sensitivity technologies, including but not limited to capacitive, resistive, infrared, and surface acoustic wave technologies, as well as other proximity sensor arrays."
The little wrist-mounted fellow will be able to communicate with the outside world, the filing notes, over GSM, GPRS, EDGE, Wi-Fi, Bluetooth, and – might as well throw everything in – WiMax, and can also "be configured as a base station for other wireless devices."
A kitchen sink, surprisingly, is not included as one of the options in any of the detailed "embodiments." ®
Bootnote
* Fitbit fans may notice that the company's newer wrist-mounted activity monitor, the Force, is not mentioned. That's because on February 20 of this year the company issued a recall of that device, noting that a small percentage of its users had reported skin irritation when wearing it, and that "test results show that users are likely experiencing allergic contact dermatitis."
Sponsored: Webcast: Why you need managed detection and response