ITU given keys to autonomous car standards process
Trials expected on public roads in six years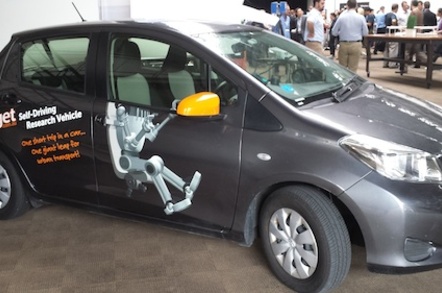 The International Telecommunications Union has communed with the auto industry and agreed "to host a dialogue of senior executives of vehicle manufacturers to identify the activities needed to consider future steps to realize the potential of fully autonomous driving."
That statement, part of a communiqué issued in the wake of the ITU's Future Networked Car symposium, puts the ITU in the driving seat to define the standards necessary to allow use of autonomous cars, and then lead development of those standards.
If the excerpt above sounds like bureaucratese of the sort that indicates autonomous cars are being sent to a committee from which they will never emerge, fear not.
In the communiqué, the director of the ITU's Standardization Bureau , Malcolm Johnson, outlines a plan to " … address issues including software reliability, legal frameworks and cybersecurity." Johnson hints he's like to get those issues sorted quite quickly, as "The industry is expected to move from trials to commercial deployment of automated driving in certain environments, such as motorways, within the next six years."
If the ITU succeeds it could mean an interoperability standard that all auto-makers can use, which should help to speed autonomous car adoption. Numerous groups are currently finding their own way in the field, so a standard agreed by industry and government would likely be very welcome.
The ITU is well-placed to do the job, as it has long experience working with technologists and governments. And of course autonomous cars present many communications challenges, which are right up the ITU's alley. ®