Tegile's tech trajectory: All-flash function in hybrid mutant body
Two new array systems coming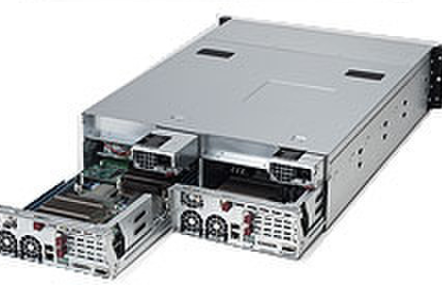 Hybrid array startup Tegile has a new system coming that will provide all-flash array functionality within its hybrid architecture.
CTO Rajesh Nair said two new systems were coming: one in a couple of months and a second one by the end of 2014. He provided some details. The first one will be a companion to the existing high-end HA2800 and will feature:
top tier of up to 20TB of eMLC flash and
a 2-tier existing hybrid scheme with about 20 per cent faster flash tier and to 120 hard disk drives (150TB).
The two flash chunks of storage have separate suppliers and use 19nm and 22nm NAND respectively. Nair said this is a moving target, implying other flash geometries could be used in future. The flash will have endurance over the warrantied five years of more than 3.5PB written. With larger capacity drives, the endurance could be pushed out to seven years.
The chief tech officer added separately that Zebi array total capacity would rise to half a petabyte (500TB) in the near future: "Most likely we'll be using [HGST] He6 drives. We're looking at them. ... Their cost has to come close to nearline enterprise SAS drives today," he said – presumably with Tegile willing to pay a realistic premium.
We could loosely think of this system as a Zebi HA28000 with a 20TB separate flash tier added – we believe this is 19nm flash – which can be used to hold entire working data sets for applications such as transaction databases, and by so doing provide all-flash acceleration to workloads that need it. Nair said that instead of walking away from such workloads and ceding the business to all-flash array vendors, Tegile will be able to compete for such business with one product – and offer hybrid array advantages as well.
Where customers would usually need to have a performance-optimised all-flash array and separate capacity-optimised storage, they will be able to have a single Tegile array offering both modes of storage, he added.
As with the Zebi HA2800, there will be two active:active controllers and one will be dedicated to the all-flash tier with the other dedicated to the hybrid tier.
The second new system will arrive towards the end of 2014 and will replace the existing SSDs with lower-latency dual-port, 2.5-inch form factor PCIe interface SSDs. The dual-porting is needed for high availability. Some 80 per cent of drives in the system will be SAS-interface hard disks with the rest being PCIe SSDs.
Nair thinks PCIe SSDs will be the norm a year from now. There are two PCIe SSD suppliers lined up for this Zebi system. Micron, Toshiba and Samsung are involved with PCIe SSDs as are two Tegile investors: Western Digital and SanDisk.
The technology "negates the investment Violin and Skyera have made in building their own PCIe switches".
He sees such PCIe SSDs restricting server ULLtraDIMM technology to just 1 per cent of the market.
He also sees dual lane SAS interfaces moving to four lanes and providing a doubling of bandwidth to 24 Gbit/s, with lower latencies as well. This should happen by the end of the year.
Nair provided a brief overview of some competitors, claiming:
with Nimble Storage flash functions as a read layer and there is no deduplication,
Tintri flash functions as both a read and write layer with dedupe only for SSDs, not for the disk drives,
Tegile deduplicates all data in its arrays inline,
NetApp's dedupe is a post-process operation,
Ditto EMC's VNX.
It will be fascinating to see if Nimble Storage and Tintri adopt a similar roadmap, and include all-flash array functionality inside their systems. If they do, then the pressure will be on all-flash array vendors to go hybrid too as the pure all-flash array market would shrink. Retrofitting hybrid, multi-tier functionality to their operating systems could be problematic. ®