MtGox, that bastion of unregulated e-currency Bitcoin, turns to Texas judge for protection
Bench throws bankruptcy shield around titsup exchange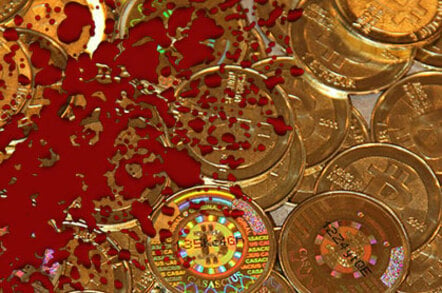 The embattled MtGox Bitcoin exchange has been thrown a lifeline by a US bankruptcy court in the northern district of Texas – which has shielded the company from litigation.
Judge Harlan Hale granted a motion [PDF] to place the company under Chapter 15 bankruptcy, a classification that will help it fend off, for the time being, lawsuits brought against it by customers in the US.
Under the motion, MtGox will undergo a formal bankruptcy hearing on 1 April where a judge will decide how to proceed, possibly further extending protections for the company as it continues its bankruptcy hearings in Japan.
MtGox has been hit in the US with a pair of lawsuits from former investors, who allege a mishandling of funds.
The Bitcoin exchange, once considered to be among the top facilitators of the crypto-currency's transactions, made headlines last month when it shut down after admitting that it had lost 744,408 BTC to hackers.
Introduced in 2005, Chapter 15 protection is a relatively new class of bankruptcy procedure, which is designed "to provide effective mechanisms for dealing with insolvency cases involving debtors, assets, claimants, and other parties of interest involving more than one country."
The company still faces the threat of litigation in other countries, including a UK case which is said to have hundreds of plaintiffs lined up for a massive class-action suit.
MtGox has said it is looking to relaunch itself after it emerges from bankruptcy proceedings and repay its debts.
The crash of MtGox, and its aftermath, has left the Bitcoin community wondering how such collapses should be handled in a market that has thus far sought to shun government intervention and regulation.
While some have predicted that the collapse would deal a crippling blow to Bitcoin, loyal backers of the currency believe its community can emerge from the incident even stronger than before. ®