Barclays warns freelance techies of DOUBLE DIGIT rate cut
'IT was a car crash before, so this isn't going to get any better' - sources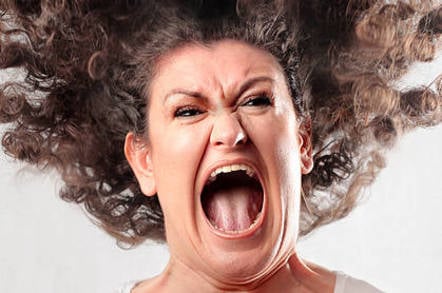 Cost-cutting Barclays has incurred the wrath of all its contractors, including techies, by confirming plans to slash rates by ten per cent from next month.
This is the third cut to IT freelancers in as many years, say our sources, and comes as the business prepares to wave goodbye to up to 12,000 workers worldwide including 7,000 in the UK.
The bank sent letters to contractors yesterday, stating, "As part of reviewing our resource cost base we have undertaken a comprehensive contingent worker rate review".
A new rate will be introduced for both UK and US workers next month and Barclays confirmed to us that it will hack ten per cent off the existing scale.
The reduced rate comes into effect on 7 April but anyone with a contract that is up for renewal prior to that date "will be subject to the new revised rate".
Barclays said in the letter it will "assume" contractors have accepted the reduced pay packet unless it hears otherwise.
"However, should you confirm your non-acceptance by Friday 14 March then please accept this communication as notice to terminate your current assignment to Barclays to finish on Friday 4 April or on your current assignment end date if sooner," it added.
Clearly a drop in pay has gone down very badly with techies - though this is the nature of contracting - and some have warned of the dangers to projects, including the Payment Protection Insurance refund team, if they decide to walk.
"It hasn't gone down well," said one contractor, "and will leave their [Barclays] PPI refund operation decimated of change, compliance and governance staff."
"[Barclays'] IT was a car crash before this so it isn't going to get any better. And this is despite promises to the FCA and FOS to clear their backlog," the source added.
Another source added, "Apparently a death-spiral in greedy corporate gamblers is bad and must be mitigated with obscene bonuses, while a death-spiral in your IT and Change capability is ok and should be actively encouraged."
A spokesman for Barclays confirmed the cuts to all contractors pay, impacting "low to mid thousands" of people. He refused to provide a split in the proportion of IT contractors that it has on board.
He said it has a backlog of PPI refund claims that the bank is working through and "making process", and added if freelancers decide to leave as a result of the rate cut it will refill those roles.
"Where we need to we will," he told El Reg.
Barclays also sent us an official statement:
"While Barclays remains committed to paying competitively, we have reviewed our contractors rates as part of our on-going costs management program," the company added.
In other Barclays news, sources have told us that third party suppliers have been banned from parking at the Radbroke Hall site in Cheshire.
"The suggestion from Barclays is that all [third party suppliers] should park along the country lanes around the site or alternatively park in the town of Knutsford and get the bus to site," said a source.
"This is a major issue and affects up to 700 third party suppliers," he added.
Barclays told us it offers permanent spaces for staff and contractors but is encouraging employees at third party suppliers to explore alternative measures such as car sharing rather than using local country lanes.
"We are also looking at putting additional bus services in the local areas to accommodate the number of third party suppliers we have on-site," the PR man stated. ®