Space-junk RAYGUN wins Australian government funding
Plan calls for lasers to nudge junk into fall-to-earth orbits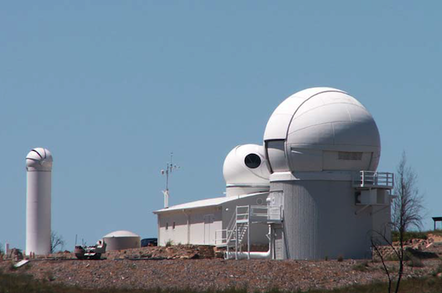 A proposal to use lasers to clean up space junk is a step closer to reality, courtesy of $AUD20 million of Australian government funding.
Led by EOS Space Systems (based at Australia's Mount Stromlo, home of one of the country's major observatories), the collaborators will start small, developing lasers that are able to identify and track space junk.
As noted by the Australian National University's Professor Matthew Colless in the university's announcement: "There are hundreds of thousands of pieces of space junk in orbit that are big enough to do serious damage to a satellite or space station."
Over time, the group (whose other members include Lockheed Martin, the NASA Ames Research Centre, Japan's National Institute of Information and Communications Technology, Australian telco Optus and Melbourne's RMIT University) hopes to give the lasers more grunt.
However, their aim isn't to make the laser into the death-ray beloved of sci-fi fans. Rather, as CEO of EOS Space Systems' space business Professor Craig Smith told Vulture South last year, "To move an object 100 meters over a 24 hour period we need to apply an amount of energy equal to about the solar radiation pressure (ie sunlight) for five to ten minutes."
EOS group CEO Dr Ben Greene told the Australian Broadcasting Corporation the company is now tracking 10 per cent of known space junk, and hopes that figure will rise to 50 per cent within five years. ®